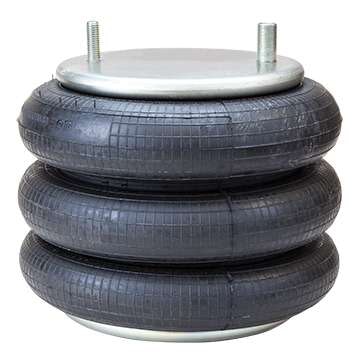 Meritor made a number of new product announcements and enhancements during a press conference Tuesday at Heavy Duty Aftermarket (HDAW).
Among the company's newest aftermarket products are Meritor-branded air springs to cover a wide range of commercial vehicle applications, and the addition of a new line of sleeve nuts to its Meritor and Euclid wheel-end portfolios. Regarding the new springs, the company says the parts are engineered to accommodate higher load-carrying capacities, deliver improved road handling and offer more protection to cargo from shocks and vibrations.
Customers will also benefit from less bounce and a cushioned, smoother ride. The comprehensive new portfolio includes triple and double convoluted, reversible (rolling lobe) and cab-mount air springs covering 85 percent of the applications. Meritor will offer one-year, 100,000-mile warranty coverage on the air springs.
"Meritor air springs are built to exacting Meritor quality and reliability specifications at a competitive price point as we continue to focus on enhancing our service to customers by delivering comprehensive aftermarket solutions," says Krishna Natarajan, senior director, Steering, Suspension and Drivetrain for Meritor. "The springs are made with robust and exceptional corrosion-resistant components to significantly reduce downtime and maintenance costs."
Meritor says the sleeved nuts are a substitute for a two-piece flange nut and are designed for select steer, drive and trailer axle applications in Class 7 and 8 vehicles. They are available in four different lengths – 6 mm, 19 mm, 28 mm and 39 mm. The company says benefits include minimizing the clearance between the wheel stud and wheel bolt hole; protecting threads by safeguarding from elements and wear; engage both dual wheels; SAE-J1965 compliant; and PTFE coated.
Platinum Protect warranty expansion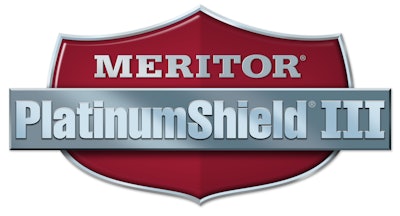 Meritor also Tuesday announced its Aftermarket hydraulic brake rotors for medium-duty vehicles are equipped with Platinum Protect coating, offering exceptional resistance to oxidation and corrosion with warranty coverage extended from one year/100,000 miles to two years/200,000 miles.
"With Platinum Protect coating and longer warranty coverage on rotors, fleets with school buses, emergency vehicles, delivery trucks and a variety of other applications will reduce maintenance costs and downtime," says Jay Urban, senior manager, Disc Brakes for Meritor. "The rust-resistant coating protects all aspects of the rotor surface, contributing to proper function of the braking system that will help to extend brake life."
Expanding king pin kits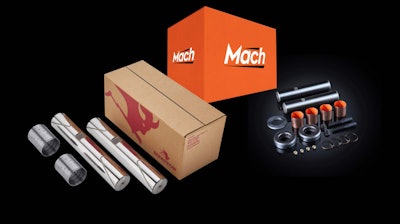 The company also has expanded its king pin kits to include new offerings in its Meritor Genuine and Mach product lines. The additional kits round out the overall portfolio, meeting multiple price point requirements while covering 95 percent of the market for ream and no-ream applications.
"This expansion allows us to offer king pin kits for virtually every commercial vehicle on the road," says Natarajan. "With products from our Meritor Genuine brand through our Mach value line, end-users can be assured of getting the right part at the right price for their specific replacement need."
Meritor says Genuine king pins are the same as those used on original builds and are best-suited for end-users who prefer genuine OEM replacement parts. The Mach king pin kits are designed to rigid industry standards, suitable for older vehicle maintenance and deliver reliable performance at affordable prices, the company adds.
Slack adjuster, preload tool improvements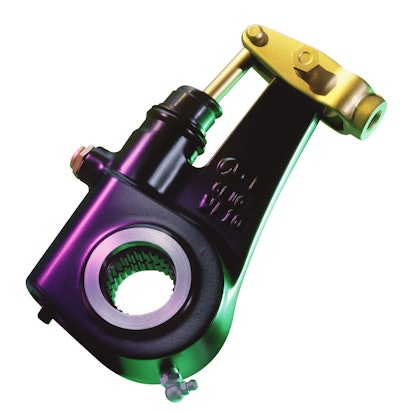 Other product announcements from HDAW include the company's news that its Meritor Genuine automatic slack adjusters (ASA) have been enhanced with a vibratory finish to the worm and worm gear as well as optimization of the main gear geometry, offering improved durability and performance.
The new vibratory surface finish treatment reduces friction between the gears, optimizing overall ASA operation. Improved main gear geometry increases robustness and gear-to-gear contact, which reduces the risks of incomplete adjustment.
Additionally, Meritor says enhancements to the Doctor Preload tool are helping technicians set bearings to more consistent, optimal settings even faster.
Through its relationship with Temper Axle, Meritor offers the Doctor Preload tool for a consistent wheel end assembly procedure that eliminates endplay and helps to set the wheel end to an optimal light preload. Temper Axle's 900 Series, second-generation Doctor Preload tool has new load arms that fit recent versions of wheel-end hubs. A circular keyfinder helps technicians more easily mount the tool onto the spindle and quickly align the Temper-Loc spindle nut once a final bearing setting is dialed in.
By properly setting preload and eliminating endplay, Meritor says Doctor Preload can help vehicle operators reduce costs for maintenance and replacement parts. The tool can help increase tire mileage by reducing uneven tire wear, and is said to help improve spindle and bearing life through more even distribution of weight as well as wheel seal life by correctly setting the bearing to reduce wear and tear. Using the tool also decreases ABS faults, Meritor says.
Doctor Preload tools are covered by a one-year warranty while Temper-Loc nuts are covered by a three-year warranty from the date of installation.