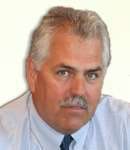 Steve Crowley was named the 2018 inductee into the Heavy Duty Aftermarket Industry Hall of Fame Tuesday at a special ceremony during Heavy Duty Aftermarket Week (HDAW) 2018 in Las Vegas. Crowley, the former president and CEO who retired from VIPAR Heavy Duty in 2017, was chosen for his leadership skills, strategic thinking, loyalty of his staff and his industry service, among other attributes.
"Thank you for the recognition," Crowley says. "It really means a great deal to me. I believe we're very fortunate to work in an industry where personal relationships still matter. Along the way, I've been very lucky to have great relationships that made my 40-plus years in this business just fly by."
Crowley was described by his colleagues as "a down-to-earth, honest guy" and "a man of his word" who "has great vision" and "knows how to get things done."
The Heavy Duty Aftermarket Industry Hall of Fame was created to help reinforce the importance of the industry and its relevance to the growth and stability of the U.S. economy, employment and American industry. Since 2007, the accolade has honored individuals who have made significant contributions to the industry, including length of service, impact on the industry, commitment to industry participation, thought leadership and moving the industry forward.