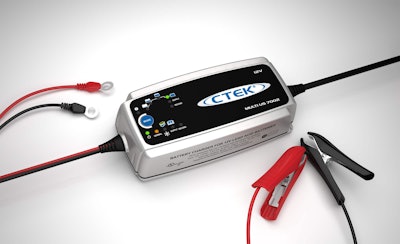 CTEK has released the MULTI US 7002 battery charger for the serious DIYer and the professional technician.
Designed to handle a broad range of batteries, from 14 Ah to 150 Ah, the MULTI US 7002 can also maintain larger batteries up to 225 Ah. The charger has a "supply" mode for up to 7A of support during vehicle servicing work or as a secure 12V power source if the battery needs to be disconnected from the vehicle, the company says
The micro-processor-controlled MULTI US 7002 revives, charges, conditions and maintains all types of 12V lead-acid batteries including wet, calcium, GEL, maintenance free and AGM, according to the company. Patented float and pulse maintenance stages ensure that once fully charged, the battery can be maintained indefinitely on vehicles that are not used for an extended period, without the risk of overcharging or undercharging. All CTEK battery chargers deliver clean voltage and current, with very little supply ripple to ensure sensitive vehicle electronics are protected. CTEK says this also means the battery does not need to be disconnected while charging.
The MULTI US 7002 also has a patented method for reconditioning sulfated batteries with a "recond" mode. The charger analyzes the state of the battery and, if possible, restores the power capacity in a stratified battery, prolonging its life. The CTEK MULTI US 7002 has safety features, including a welded casing, which seals the smart battery charger against dust and moisture. The charger has a one-way quick connector that is spark-proof and reverse-polarity-protected for user safety.
Designed to be user friendly, the CTEK MULTI US 7002 is fully automatic and has a simple interface based around a Mode button, which can be used to select battery charging, battery reconditioning or constant power supply, according to an announcement. The CTEK MULTI US 7002 smart charger also continually monitors the battery throughout the charging process, adjusting the charging rate to the battery condition. It offers 7 amp charging current as well as the company's proprietary, eight-step battery care program. Included in the eight steps are desulphation and reconditioning phases that can restore discharged batteries to peak condition. Each stage ensures that any lead-acid battery is optimally conditioned, charged and maintained, the company says.
The CTEK MULTI US 7002 charger comes with a five-year warranty, is easy to operate, fully automatic and requires no specialized knowledge to use. An intuitive display allows the complete charging process to be monitored, CTEK adds.