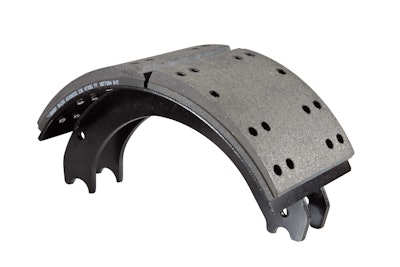 Bendix Spicer Foundation Brake (BSFB) and Bendix Commercial Vehicle Solutions each introduced new brake shoe products at Heavy Duty Aftermarket Week (HDAW) in Las Vegas.
BSFB has introduced a coreless steel shoe featuring Bendix Basic Friction or Bendix Advanced Friction lines.
"We know, for instance, that not every job demands the superior performance level of Bendix OE Friction. At the same time, we recognize that some customers prefer not to deal with remanufactured shoes – which carry core charges, plus require collecting used shoes and returning them to the manufacturer," says Keith McComsey, director of marketing and customer solutions at BFSB. "Yet, until now, our aftermarket shoes with Bendix Basic and Bendix Advanced frictions were solely available as remanufactured products. With the new steel/coreless shoe, we've filled that niche in our aftermarket line, giving vehicle operators another option to best meet their particular needs."
In addition to eliminating core charges, BSFB says the new steel/coreless shoe also utilizes an E-coat process, which offers improved corrosion protection to help prevent rust jacking. A combination of brake shoe corrosion and lining failure, rust jacking occurs when rust builds up on the steel beneath a brake lining, exerting upward pressure on the friction and eventually causing cracks in the friction material, the company says.
Additionally, new in 2018 Bendix CVS says it is offering a remanufactured brake shoe with the same proven friction and coating it specs on its original equipment brake shoe – as well as an extended, five-year warranty against rust jacking. The warranty matches the one Bendix offers on its OE shoes.
The introduction of the new reman shoe comes as the company's remanufactured brake shoe production has topped six million units.
"We are intently focused on offering reman brake shoes that maximize safety and performance by resisting premature lining wear and rust jacking to provide full service life. This, along with value, is what our customers require in a reman brake shoe," says McComsey. "The Bendix OE-level reman shoe with extended warranty is part of our commitment to meet these needs."
To help vehicle operators maintain performance of RSD-equipped vehicles (those built after 2011), Bendix offers both original equipment and aftermarket RSD-certified friction options. The company's newest reman brake shoe combines Bendix OE friction with the same E-coat originally spec'ed only on Bendix OE shoes. Bendix also says it stands behind the OE shoe and its OE coating with an extended five-year warranty against rust jacking, identical to the warranty on its original equipment shoe.