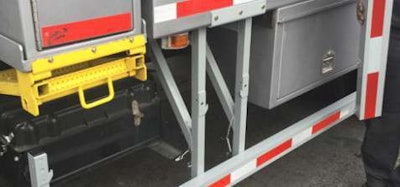 Durex's says its new Dur-A-Guard protective side guards are designed to fill the exposed space between the front and rear wheels on trucks with high ground clearances, helping to prevent pedestrians and bicyclists from falling under the truck and into the path of the rear wheels.
The guards are made from high-strength lightweight aluminum and are powder-coated for added weather protection, and a removable access rail helps provide accessibility to truck components.
The system can be custom-fitted onto existing trucks or incorporated into new vehicle fleets and can fit all makes and models, including vehicles integrated with existing toolboxes, sidewalls and bodywork, the company says.