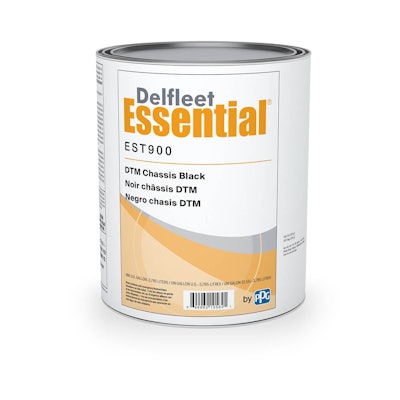 PPG's commercial coatings division has launched EST900 DTM Chassis Black Topcoat, a key addition to the Delfleet Essential brand, giving customers a new choice for metal protection.
EST900, based on advanced technological polyurethane development, is a direct-to-metal (DTM) 2.8 VOC chassis topcoat and does not require the use of a primer coat. It may be applied directly over sanded cold rolled or blasted hot rolled steel surfaces, and is formulated to effectively withstand common corrosion factors while providing excellent adhesion characteristics, according to the company.
"With EST900 DTM Chassis Black Topcoat, PPG customers can enjoy two immediate benefits — enhanced productivity and reduced costs," says Scott Colvin, PPG product manager, commercial transport. "Eliminating the priming step reduces material and labor costs and speeds up the entire coating process. In addition, EST900 offers exceptional resistance to corrosion and wear and utilizes the existing Delfleet Essential hardener and activators. PPG customers will appreciate the positive throughput difference EST900 can make in a busy commercial shop."
According to Colvin, EST900's urethane-based resin technology provides outstanding protection against abrasive chemicals and corrosive solutions, including road salt (magnesium chloride), grease and oil. As a 2.8 VOC chassis topcoat, it is compliant in all areas of the United States and Canada.