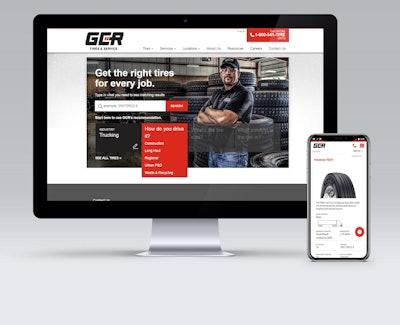 GCR Tires & Service (GCR) announces the launch of its Commercial Truck Tire Finder, a digital tool that allows customers to quickly and accurately find products that meet their tire needs.
According to the company, the finder tool provides users with both product-specific and guided search options. The guided search process is designed for users who may be less familiar with their tire choices, and focuses on finding the right tires for a specific industry application such as trucking, bus and RV.
After answering four simple questions, GCR says users can view the top commercial truck tires for their needs while easily comparing product features and benefits. Customers who want to view information about a specific tire can navigate directly to the desired product page by searching a product name or tire article number, the company adds.
"When it comes to tires, customers have a lot of choices and the amount of information available can be overwhelming," says Timothy Netzel, senior marketing manager, GCR. "We launched the GCR Commercial Truck Tire Finder because we saw a need for a simplified online tire researching experience. The tool offers relevant, qualified tire information to customers with speed and accuracy – it's basically like having a proactive tire advisor at your fingertips."
The GCR Commercial Truck Tire Finder is optimized for both desktop and mobile use to ensure fleet customers are armed with information regardless of location. GCR says it will launch its second version of the Tire Finder tool for off-the-road (OTR) tire customers later this spring.