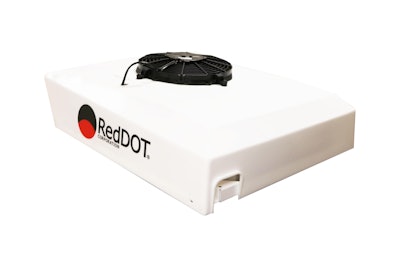 Red Dot Corporation has launched its first all-electric, heavy-duty HVAC unit.
According to Red Dot, the E-6100-0-24P is a turnkey HVAC system, ready to be installed on the roof of the vehicle's cab. Because the entire system is self-contained, the operator simply needs to provide power for it to function. The unit's main features include producing 300 CFM of airflow while achieving 15,000 BTUs per hour to keep heavy-duty vehicle operators comfortable and safe in the cab, Red Dot says.
"Many industries are making significant shifts toward energy-saving operations to reduce carbon emissions and increase efficiency. Red Dot recognized the need for more all-electric options in the heavy-duty mobile HVAC market, so our engineering team got to work," says Tim Oliphant, Red Dot's director of engineering. "While our electric mobile HVAC system provides the unparalleled climate-controlled comfort and safety that operators expect from Red Dot, it can also help equipment owners simplify their HVAC systems."
Beyond providing a turnkey A/C solution, Red Dot says its E-6100 electric unit also offers the added benefits of:
Quick and easy installation;
Removal of the compressor from the engine compartment;
Elimination of many potential leak points associated with hose runs; and
Significant reduction in refrigerant charge.
The 24-volt electric units are available through Red Dot's global dealer and regional warehousing network. Additionally, a 12-volt system is currently in development to meet a broader range of vehicles and will be available for purchase later this year. Red Dot says distributors are invited to contact their Red Dot sales representatives for more information or to place an order.
"For more than 50 years, Red Dot has been known in this business for the reliability and durability of our products," says Pat Carroll, Red Dot's vice president of sales and marketing. "With our newest development, we've taken the next step in helping heavy-duty fleets across industries realize even greater ROI."