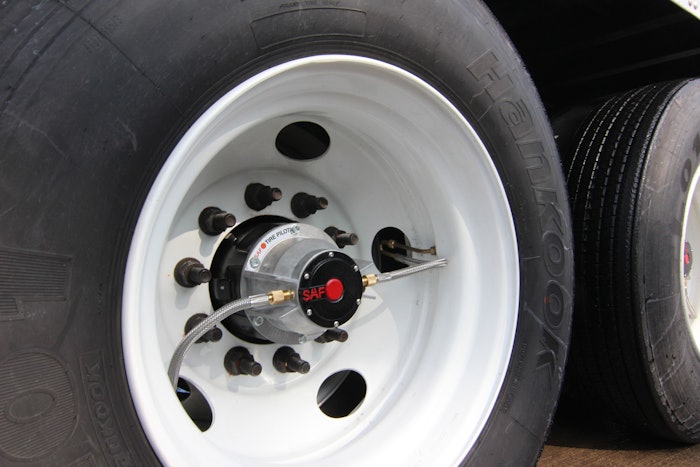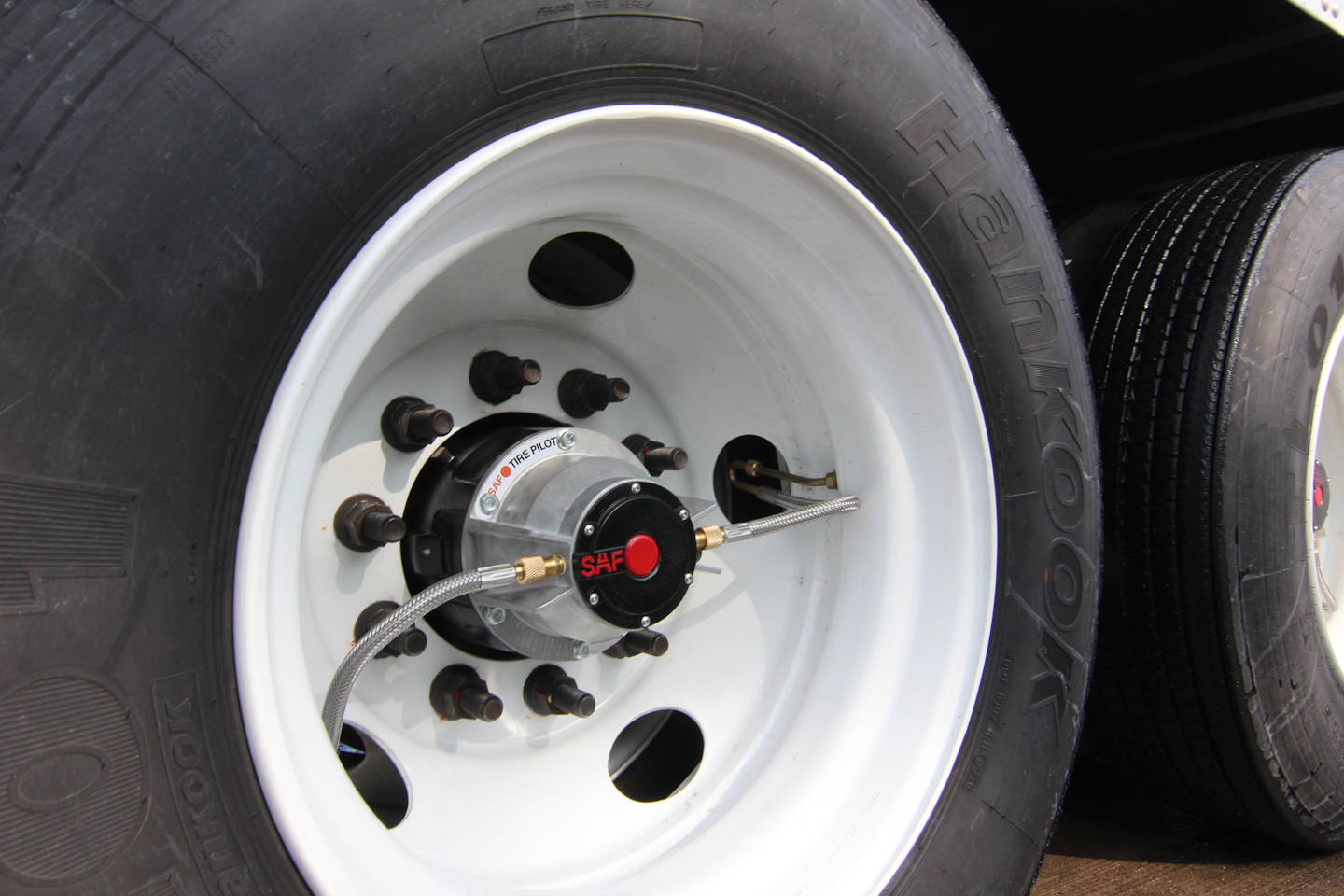 SAF-Holland has introduced the SAF Tire Pilot Plus Tire Pressure Management System, a complete tire inflation system that allows vehicle owners to protect tires by reducing tire wear and the costs associated with it, improving fuel efficiency, reducing service and optimizing uptime.
The new product was released Sunday at the ATA's Technology & Maintenance Council (TMC) Annual Meeting in Atlanta.
In debuting the Tire Pilot, SAF-Holland Product Manager Roger Jansen says proper tire inflation has a direct effect on tire wear and fuel economy. According to TMC, trailer tires can lose up to 2 psi per month through the inner liner and casing, regardless of use. The TMC calculates that tires underinflated by 10 percent will wear 9 percent to 16 percent faster than properly inflated tires. TMC also reports underinflated tires add rolling resistance that can reduce fuel economy by as much as 2 percent, and Jansen adds that 80 percent of premature tire failures are the result of improper wear.
SAF-Holland says Tire Pilot Plus provides consistent and proper inflation to compensate for psi loss. The company says the new system not only controls pressure through inflation, but also maintains equal pressure across all wheels and features High Pressure Relief (HPR) for over inflated tires, which could occur from extreme temperature changes during operation.
Designed by leveraging the company's European Tire Pilot platform and "custom engineered" for North American market, Jansen says Tire Pilot reduces tire wear, decreases downtime by reducing maintenance, and improves fuel economy. The product has an ROI of less than a year.
Tire Pilot Plus manages costs by decreasing maintenance in six ways:
Reducing time spent on tire repair and replacements.
Eliminating the need for routine pressure checks.
A robust design utilizing durable components in a non-pressurized axle environment that increase the system's life.
Incorporating knurled connections at both the cap and tire ends of the stainless steel hose, for easy hand-tighten connections without a wrench.
The unique design of the hubcap with fins that protect the air fitting connections from damage.
The polished steel/flexible tubing insert shaft and internal double lip seal provide an extremely robust seal that allows for potential axial misalignment and years of trouble free service.
SAF-Holland also notes Tire Pilot Plus simplifies driver pre- and post-trip inspections in addition to reducing driver stops to check tire pressure levels. The system's warning light on the front wall of the trailer illuminates ONLY when it senses a reduced pressure of 20 psi on the regulator setting, indicating to the driver to immediately seek service. This greatly eliminates false-flag type notifications when the system is required to temporarily operate to manage small tire differences.
To further reduce maintenance and replacement costs, Jansen says Tire Pilot — which also can be retrofitted into existing units — uses a robust, braided stainless steel air hose, and knurled fittings at both hubcap and tire ends of the air hose make for easy hand-tightened connections without a wrench. The multi-functional hubcap of Tire Pilot has an integrated guide lip on the inside of the cap to enable easy alignment, sealing the surface to prevent oil escaping. Air supply to the tires flows through robust integrated passageways in the hubcap to the hose fittings. The hose fitting locations are plumbed through the sides of the hubcap and protected by its patented integrated fins, above and below the connection, the company says.
Dedicated airlines from the Tire Pilot Plus control box to the wheel ends maintain pressure at pre-set levels, eliminating the need to pressurize the axle. To prevent air loss, SAF-Holland says the bronze bushing ensures proper alignment of the rotating shaft, and a double-lipped radial seal (O-ring) prevents the system air from escaping into the axle wheel end. And, the patented vented axle spindle plug within the axle spindle end keeps the system's air dry, clean and free of contaminants to avoid wheel-end failures due to contamination or blown bearing seals.
Finally, for easy installation, SAF-Holland says Tire Pilot has a customized plug-in electrical harness to fit your application, and it maintains tire pressures even when the system is not connected to the tractor.