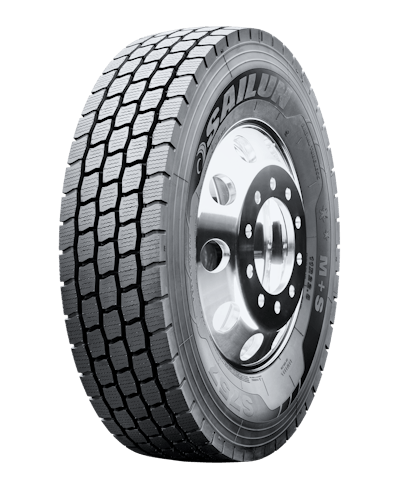 TBC Brands has introduced the S757, a next-generation "super regional" all-weather drive tire that expands the Sailun program, according to an announcement. The line is offered exclusively in the U.S. by TBC Brands.
The S757 is an important addition to the Sailun lineup for both line haul and regional applications across the country, the company states. It's extra-wide footprint and solid shoulders improve stability and handling, while extensive siping and channeling improve grip in wet conditions and snow. The deep 26/32nd tread depth and new tread compound provides long tread life and improved cost per mile versus standard tread depth offerings. It's available in 11R22.5 and 11R24.5.
"We are excited to bring the Sailun S757 regional all-weather drive tire to our distribution and dealer partner network," says Bill Dashiell, senior vice president of the Commercial Tire Division for TBC Brands. "Truck owners are looking for extended tread life and improved traction, and Sailun has delivered just that with the S757."
Sailun TBR tires feature a six-year warranty for workmanship and materials that includes a no-charge replacement within the first 50 percent of usable tread if it becomes unserviceable because of a defect in design, workmanship or material. The S757 offers a casing retread warranty for up to two retreads.