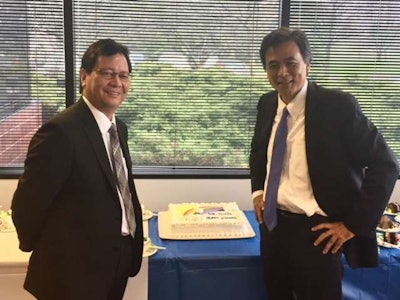 The NTN Americas Region held a ceremony this week at its Mount Prospect, Ill., headquarters to express its appreciation for outgoing CEO Tetsuya Sogo and welcome incoming CEO Katsuaki Miyake.
Sogo, senior executive officer, NTN Corporation, is repatriating to Japan next week for his new appointment as corporate general manager at NTN financial headquarters in Osaka.
Succeeding Sogo is Miyake, executive officer, NTN Corporation. Miyake joined NTN in 1988 and has held successive roles in production and manufacturing during his tenure. Most recently, Miyake was president of the NTN Iwata Works in Japan and also deputy corporate general manager of the automotive headquarters.
"We'd like to express our appreciation to Mr. Sogo for his leadership as our CEO since 2013. His contributions led to significant growth in our revenue, profit and expansion of our operations in the Americas," says Pete Tully, vice president and chief human resources officer, NTN Americas Region. "We wish Mr. Sogo success in his new assignment in Japan and welcome Mr. Miyake as the new CEO of the NTN Americas Region."