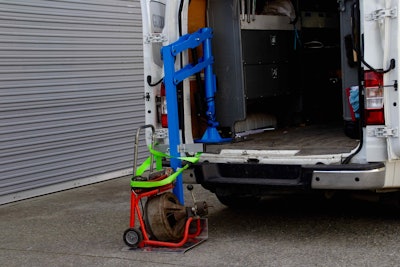 Atlas Lift introduces a compact, lightweight, economical platform lift capable of safely moving loads up to 450 lb. on or off vans and other work trucks.
Available in two models — Model KA-121 and Model KA-121-RC with a rechargeable battery system — Atlas Lift says its new products were designed to adapt to various industries where heavy-duty lifting and heavy-duty equipment is used.
The company says features of the lifts include:
450-lb. Weight Capacity
8 in. 20 in. Storage Footprint
Wireless Remote Control
Effortless Bearing Rotation
Safety Brake
Adjustable Strap Bar
Lightweight Aluminum Design
Low-cost 4-Bolt Installation
Portable
Options for a Rechargeable Battery System and Base Plate for other vehicle installations
Atlas Lift says the lift works with all high-roof vans, medium-roof vans, 2013-18 standard roof Dodge Rams, box vans, cargo vans and parcel vans. Soon, Atlas will be offering lifts for all standard roof vans and pickup trucks. The 16 in. by 20 in. platform handles most loads and can even accommodate loaded hand carts. The storage design only requires a small 8 in. by 20 in. footprint.
Additional safety features include a strap bar for cumbersome loads, a locking safety brake and a load distribution base mount plate. The company says average installation takes between 60 and 90 minutes.