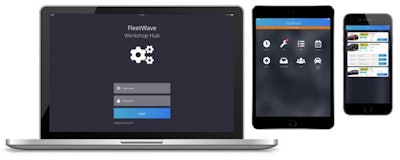 Fleet management software provider Chevin Fleet Solutions is developing a new tool for technicians to manage jobs from a touchscreen device called the 'Workshop Hub.'
The new 'Hub' will act as a central location for technicians to complete daily administration tasks such as time sheets, service documents, inspection sheets and workshop audits from the workshop floor.
It will also drive management information by producing real-time data relating to employee utilization and efficiency in the web-based FleetWave portal, the company says.
Within FleetWave, managers will be able to allocate work orders to individual technicians and monitor their day-to-day activities. The new tool will give technicians a user-friendly system with prompts and more visual job-specific information to ensure timely completion of work.
The 'Hub' can produce manufacturer-specific inspection sheets for specified vehicles with mandatory fields for entry. The forms can be updated in a digital format.
Chevin says other benefits of Hub include:
History reports that come from technicians uploading images for more detailed reporting on workshop repairs and warranty claims.
Electronic signature capture that triggers PDFs to be automatically sent to assigned team members.
Greater visibility of fleet data to drive informed decisions.
The Workshop Hub will be accessible on mobile, tablet and desktop devices as a stand-alone module outside of Chevin's FleetWave software. It is set to fully launch in early 2019.