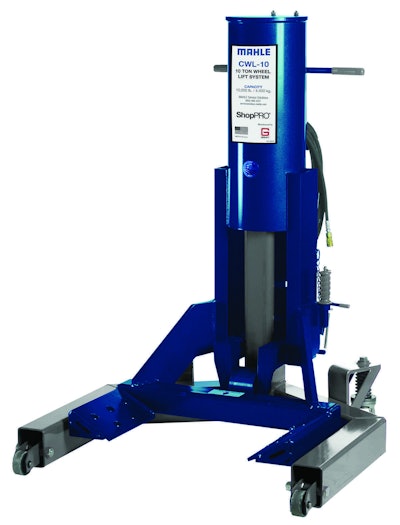 MAHLE Service Solutions introduces the ShopPRO CWL-10; an innovative air operated mid-rise 10-ton commercial wheel lift that provides a shop with unsurpassed flexibility and quick access to major components on all types of vehicles.
MAHLE says the CWL-10 is ideally suited for shops with low ceiling heights and features a built-in vehicle support stand that allows complete open access under the vehicle. The 100 percent air operated system provides years of maintenance and worry-free lifting, the company says. The portable design also eliminates the need for a dedicated bay. The maximum lifting height of 24 in. is perfect for major component removal, and the company says the lift increases shop productivity because there is no wasted time removing aerodynamics from vehicles.
The CWL-10 has a wide, spring loaded base to provide users with a stable platform to allow for the secure lifting of a wide array of vehicles, MAHLE says. The unit comes with small wheel adapters. A dual trigger control valve allows for the synchronized raising and lowering of a vehicle, the company says.