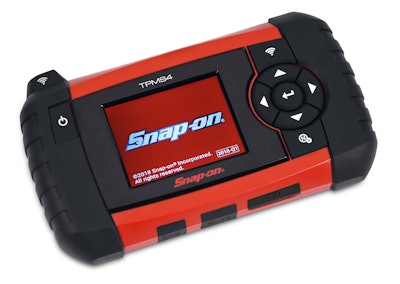 Snap-on has introduced a tire pressure sensor system tool kit, a diagnostic tool that tests tire pressure monitoring sensors, captures sensor data and relearns tire pressure monitoring systems (TPMS).
An all-in-one tool for multiple vehicle applications, the TPMS4 features vehicle-specific prompts and reset procedures following tire rotation and sensor replacement, according to an announcement.
"The Snap-on TPMS4 quickly diagnoses TPMS sensor problems and is unlike any other tool in the marketplace," says Michael DeKeuster, a Snap-on Tools product manager. "It works in concert with other Snap-on diagnostic platforms and comes standard with software to program aftermarket sensors. The software also contains vehicle-specific relearn procedures on board for quick lookups.
The user interface on the TPMS4 features a daylight-readable, high-resolution display for reading PSI, ID, temperature, battery status and more. It determines whether a replacement sensor is needed, provides quick registration of new sensor locations after tire rotations and tests key FOBs for proper signal strength and battery condition.
Running on a Lithium Ion rechargeable battery, the kit also includes TPMS connect software to print sensor information, as well as to access new software updates as they become available.