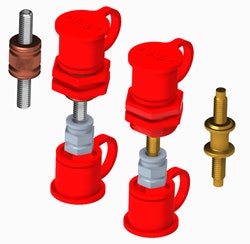 GEP Power Products has developed a new IP 67 and 69K compliant, stud type electrical pass through device for lithium ion battery enclosures. The pass through is compatible with commercial and military grade requirements and offers completely occlusive sealing in a broad range of environments.
According to the company, lithium ion batteries require a separate exterior enclosure to isolate them entirely from working environments due to the technology's inherent instability. In this application, batteries that are housed inside an isolating enclosure transfer power through battery cables and connect via ring terminals to a stud type pass through device on the enclosing container's wall, the company says.
GEP says the electrical pass through device has three primary purposes:
Conduct electricity through the enclosure wall
Prevent any mechanical or environmental action, such as vibration or humidity, from causing abrasion that results in an electrical short
Prevent any infiltrating of liquids, gasses, dirt or other elements into the enclosure
Used primarily by utilities in high amperage electrical distribution grids and military applications, GEP says the enclosures must meet IP67 and IP69K standards.
The two main criteria for these standards are prevention of dust ingress and prevention of water ingress.
Additionally, in order to meet these standards, GEP has developed an entirely new assembly process for its sealed pass through devices. The process introduces a sealant that fills every area and surface of each component of the assembly to create a seal that is absolutely impermeable. GEP says the finished pass through device becomes an entirely sealed assembly that behaves as an impermeable unit that resists any liquid, gaseous or particulate penetration.