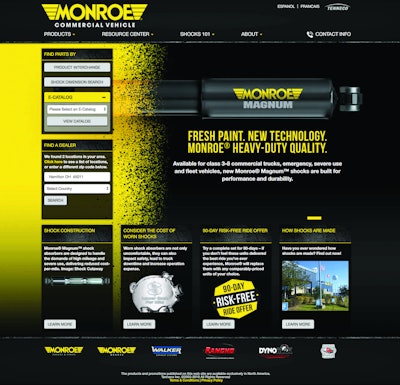 Tenneco announced Tuesday it has produced a new website for Monroe ride control heavy-duty products.
Featuring a new mobile-friendly layout, the company says the update website offers quick access to valuable resources and information on Tenneco's full range of Monroe commercial products, including the recently released line of premium-quality Monroe Magnum shock absorbers.
Available for the North America commercial vehicle market, the new, all-black Monroe Magnum shock absorbers help fleets and other users reduce cost per mile through outstanding durability, improved vehicle control and increased driver comfort and satisfaction, Monroe says. Featured on the new website landing page, Monroe says visitors to the site can learn more about the premium shock absorber and its extensive design and construction features that are engineered specifically to address the increased demands of today's hardworking over-the-road tractors and trailers, municipal, emergency and other severe-use vehicles.
"Our new, user-friendly Monroe commercial vehicle website makes it easy for visitors to locate all the information they need on this advanced new Monroe Magnum offering," says T.J. Fontana, director of sales, commercial vehicle, for the Tenneco North America Aftermarket business. "The new site gives our customers the opportunity to explore additional products and resources we have to offer."
Through the "Products" tab, visitors also can access feature and benefit information on the full range of Monroe Magnum shock absorbers for vehicle categories including: Class 3 to 6 trucks, Class 6 to 8 trucks, RV and transit buses, severe service vehicles and cabs. Other products highlighted on the website include Monroe Magnum steering stabilizers and Monroe Brakes Severe Solution brake pads.
Finally, the new website offers access to additional resources and information, including a powerful product interchange tool; dealer locator; shock dimensional search; product warranty information; Tenneco's "Shocks 101" educational guides; and more.