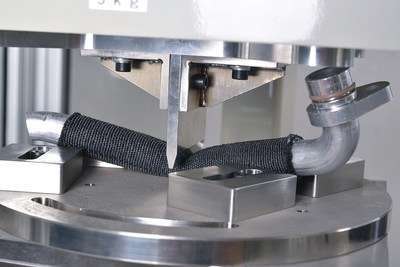 Federal-Mogul Powertrain has launched its next generation textile sleeving for crash protection and impact resistance.
Available for light- and heavy-duty applications, CrushShield 2448 features a new heat shrinkable design that absorbs and disperses energy during a crash, protecting sensitive vehicle components including air conditioning lines, fuel lines, hoses and high-voltage cables. The product also provides superior abrasion resistance, which prevents mechanical wear from nearby components that come into contact with each other, the company says.
"As heavy-duty engines continue to increase in complexity, so does the amount of tubing, hoses, cables and wiring components required to maintain effective vehicle operations," says Gian Maria Olivetti, chief technology officer, Federal-Mogul Powertrain. "As a global leader in the design of abrasion and crash technologies as well as innovative textiles, our Systems Protection CrushShield solutions have been proven in advanced testing to provide impact resistant, durable protection for components."
The company says CrushShield 2448 uses a high performance, multi-layer textile design that enables it to dissipate energy in a crash situation, while also providing excellent abrasion protection. Its innovative design has a shrink ratio up to 4:1 with a minimum shrink temperature of +140°C, which the company says enables simple installation over large connectors, brackets and contours with sharp angles, delivering protection where it's most needed on the application.
The heat shrinking design also enables the sleeve to increase in density and toughness when fitted or "shrunk" around the component, maintaining its shape in extreme environments and preventing exposure of the protected products, further enhancing impact and abrasion resistance while increasing component durability, Federal Mogul says. With its lightweight, shrinkable construction, the company adds CrushShield 2448 can also cover multiple diameter applications with the same product, thus reducing the need for additional customer part numbers.
"Ease of installation is truly the hallmark of CrushShield 2448's design," says Tammy Ebersole, vice president and general manager, Systems Protection at Federal-Mogul Powertrain. "When installed, this product will firmly grip onto the protected component, eliminating the need for additional fixation devices, reducing overall installation time and complexity for the customer."