The following comes from the August 2018 issue of Truck Parts & Service.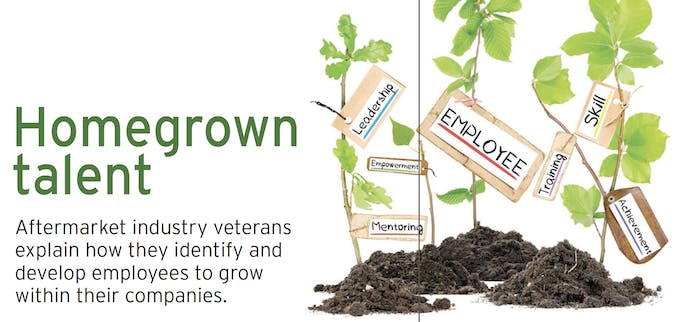 There are clear advantages for aftermarket distributors and service providers to develop their employees and promote from within versus hiring employees from outside the company. Current employees know your business, how it functions, your culture and probably many of your customers. Developing and promoting from within also creates loyalty among your employees and provides your company with stability.
Granted, not every employee aspires to do more or be more than what they currently are for the company. Some might be fine with what they do and picking up their paycheck.
But for employees who want to take on more responsibility and rise within the ranks, whether they've been on staff a few months or several years, companies must ensure they have developed an environment where employees feel comfortable expressing their desire to grow. Companies also need to have a plan in place to nurture these go-getters.
Promote opportunity
Before a company can begin groom-ing an employee to take on additional responsibilities or for a larger role within the organization, it first must be receptive to those motivated workers.
"I can't emphasize enough the importance of paying attention to the employee," says Shawn Shumaker, general manager at Skinner Diesel Services. "If you truly listen, they'll tell you a lot. All too often, owners and managers get so focused on the day-to-day operations, that they don't take a step back and work on the business instead of in it. And, part of that is listening to your people."
Shumaker adds that Skinner Diesel stresses open communication with its employees, who are urged to speak up if they're interested in another position. To help facilitate this, Shumaker regularly meets with employees to have a "completely open" discussion. The talk could be about an employee grievance or it could be about the employee wanting to "grow and do something different," he says.
At Midwest Wheel Companies, nearly all job openings are posted internally. Employees are encouraged to apply and everyone who does is interviewed. "It is so necessary for us as a company to retain quality employees and making sure they always see job opportunities is one way of doing that," says Michael Callison Jr., chief operating officer.
If an employee isn't a good fit for the job, the interviewer won't just tell him why, but also explain the job skills the employee needs to develop should the position become available again, according to Callison. "Giving them a goal and explaining the job skills they need to advance is very important," he adds.
UAP Inc., also posts positions internally and company employee candidates always are given priority. When an employee applies, regardless of the department they come from, the application is reviewed and, if it meets the position's requirements, the employee is considered.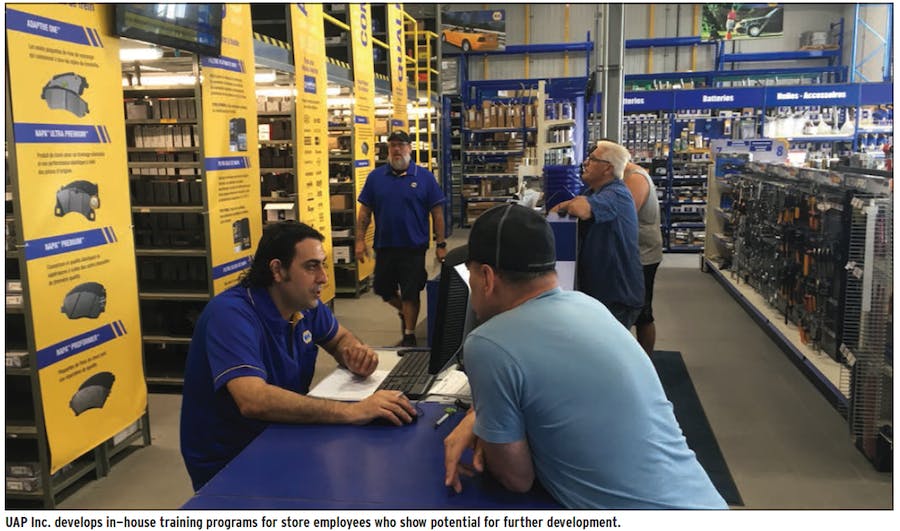 "It is a great way to recognize our good employees by helping them grow — and the expertise is kept within the company. Of course, internal candidates must meet the requirements of the position or demonstrate a strong willingness to learn and at that time they are put in a training program," says Lucie Gervais, human resources business partner, Quebec Region at UAP.
Wofford Truck Parts makes it clear to new employees that they have the ability to grow beyond the position for which they've been hired.
"If they are sincerely interested, I present time frames and in-form them of the prerequisites they must fulfill before they can be considered for promotion," says Owner Wesley Wofford. "These prerequisites are very reason-able and can be accomplished within a few months if the individuals apply themselves. We also allow anyone who is interested to come in on Saturdays and shadow members of the sales staff, for example.
"Those who are truly interested in moving up will make the effort to come and learn on their own time."
Part of the culture at PBS Truck Parts is continually reinforcing the opportunity for a rewarding career with the company. The company invites its associates to openly voice their requests for training, which will make them more valuable and will ultimately create opportunities for them.
"We also try to instill a mindset that there's no job that's not their job," says President Bill Nolan.
During performance reviews, Nolan has his managers ask their younger employees, "What do you want to be when you grow up?" or "Where do you see yourself in five to 10 years? Is it more than you're doing today?" Nolan admits the questions sound corny, but they get young adults thinking less about their work as a job and more as a career, mov-ing up in the company and making more money. "So, we try to encourage that," he says.
"What I love is when they say, 'I want Jim's job.' You've got a guy who's been in the warehouse for fi ve months and they say they want the manager's job. Fantastic! Then we ask them, 'What do you think you need to know and what do you need to get there,'" Nolan says.
Encourage and develop
It doesn't matter the industry, everyone starts somewhere. Whether employees initially take the initiative to try to move up or transition to a different department or a manager spots potential in staff members and encourages them to take that next step, the employees must demonstrate they're serious about accepting more responsibility and the company must be ready to develop them.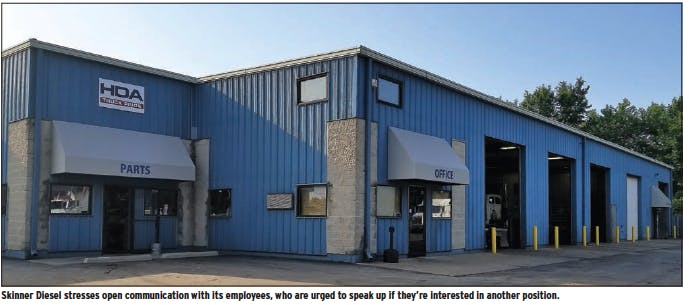 Skinner Diesel has been around since 1982. "We have a lot of long-term employees and not everybody started where they are. They came in as drivers or warehouse staff and grew into their current positions," says Shumaker.
For example, Skinner Diesel became shorthanded in the radiator shop and the company told the employees working the parts counter they would be taking turns helping out. A counter staffer immediately said, "I'd like to be the guy. I'll be the first one to go in the rotation." He got to spend time learning from the division manager and when the manager later left the company, the employee who spoke up now leads that department, Shumaker says.
Another example is an employee who started out as a driver and has now been working in the body shop for 30 years.
"Eagerness to learn is important. We offer training materials, including online training from our suppliers, and say, 'This is going to be on your time. When we have a supplier in the build-ing, you're on the clock. But if you want this online training, it's available to you after hours,'" says Shumaker. "There are people who take an interest and they'll do those types of things on their own time."
PBS Truck Parts has hired employees for entry-level warehouse or driver positions, as examples, who have the right attitude and are highly motivated. "They're taking product catalogs home on the weekends; they're constantly asking questions. Those are the people who will ultimately go through inside sales training," says Nolan.
The next step is working the parts counter with a seasoned counter person who will introduce them to the computer system and how to look up parts. Nolan says if they're still interested and show an aptitude for the department, then the company starts to train. Employees are then introduced to in-depth computer training and PBS Truck Parts sends them to product supplier training sessions and industry conferences.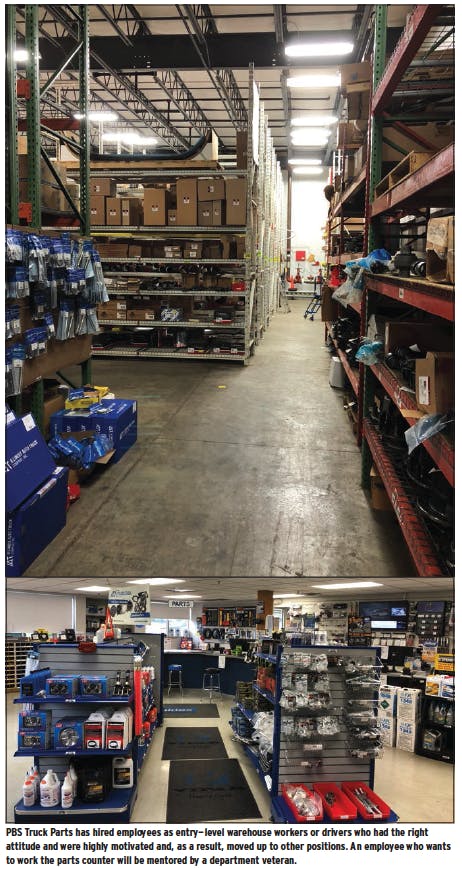 The company is finding the key to training is the manager, who serves as a mentor. The manager and the employee work together to develop a measurable plan consisting of skills that need to be learned, according to Nolan. This plan becomes the platform for the employee's future review.
"It's a unique plan for each individual based on what he or she says they want to do," says Nolan. "Sometimes, after working a plan, the company decides an employee isn't right for the job they say they want but shows abilities for another. It is essential that you then adjust the plan to meet these abilities."
"Regardless of their position, we cross-train them as much as possible. This serves multiple purposes. I like to think they begin to appreciate and respect the responsibilities of other employees once they have experienced them," says Wofford.
"And, aside from providing upper management more flexibility in the event they are short-staffed, cross-training helps the employer identify potential and create an avenue for employees to discover their own interests," he says. "Once we identify the direction employees want to go, we [motivate] the employees to perform well in their current position so that they earn the right to move to another."
If employees want to go into sales, for example, they start in the warehouse, spending a minimum of two weeks receiving parts and putting them in stock. Wofford Truck Parts encourages employees to take their time by opening the boxes and looking at the parts.
Once they study the company's breadth of products, they stock the parts to get familiar with the warehouse layout. Then they are trained on the computer system for a week. After that, they shadow each sales person for a week. Altogether, this process takes two to three months, Wofford says.
A few of the company's sales representatives started off by de-riveting and cleaning brake shoes. When Wofford saw their dedication, he promoted them to shipping and receiving, and eventually to sales. "I can attest to the fact that they displayed more confidence once they were in sales because they had the opportunity of learning everything from the ground up," he says.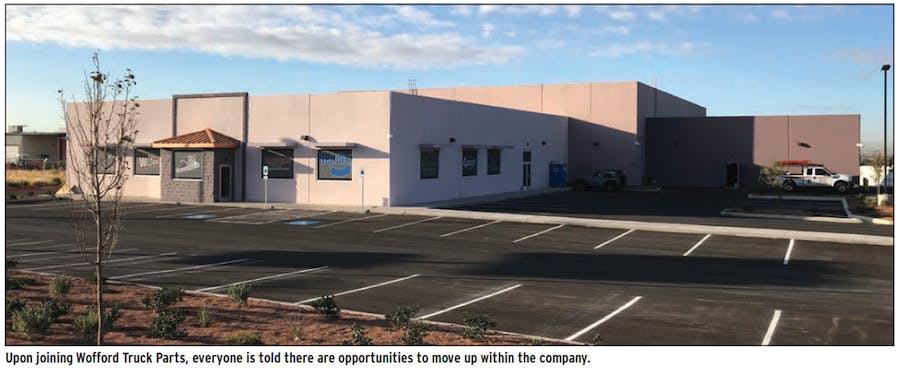 UAP has created a succession planning identification program for employees, who are kept informed about possible opportunities, and they could become a part of a training program to help them grow within the company, according to Gervais.
"Typically, employees with good potential in our stores are identified by their manager and we build them in-house training programs to help them stay motivated and develop them for future business needs," she says.
Developing employees at Midwest Wheel starts when they are first hired.
"No matter what position we are hiring for, whether it be warehouse, counter, sales or management, we are always looking for people who can be more than just the job we hire them for," Callison says. "We look for people that have the basic skill set necessary to take the next step, such as social skills, customer service skills and problem solving."
Those basic skills make it easier to find new positions for them with the company. "We provide all the necessary training for a given position and there will always be people who stick out, people who go beyond their job descriptions," Callison says.
Some examples of employees who have moved up within Midwest Wheel include: a territory assistant promoted to field manager who is now vice president of sales; a warehouse worker who moved up through various positions before becoming vice president of marketing and technology; and a warehouse employee who moved to driver and was later promoted to territory assistant and then became territory manager.
Callison says there are many other examples, but the key is the company doesn't have a set guideline or path for an individual. "It is up to the employees on what their skills are and what they want out of Midwest Wheel," he says.
"The building blocks and opportunities are there if they show a genuine interest and ability to move up."