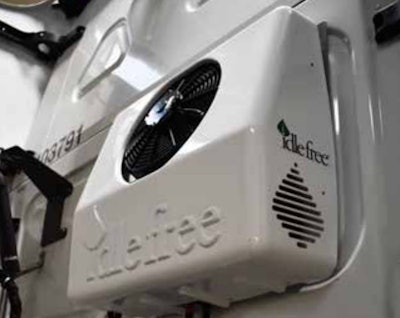 Phillips & Temro Industries (PTI) has launched its Idle Free Series 5000 eAPU, a high capacity cooling electric auxiliary power unit designed specifically to keep truckers comfortable in hot climates, according to an announcement.
PTI developed the Idle Free Series 5000 utilizing the latest, proven compressor technology, which when combined with a wall mounted evaporator that delivers over 300 cfm airflow, can maintain an average cabin temperature of 68 degrees in an ambient temperature over 100 degrees. The system is completed with proprietary automatic start-stop technology that starts the engine when the APU batteries need to be charged, making a comfortable 34 reset period possible with an all-electric APU. The Idle Free 5000 has a slim, low-profile unit containing a compressor and condenser that mounts to the back of the cab, preserving frame rail and under bunk space.
"High ambient temperatures are a main cause of truckers' sleepless rest periods, which means keeping them cool and safe is a top priority when they're hauling in high temperature areas," says Tom Moser, PTI president. "Based on feedback from drivers and fleet managers, we developed a cooling APU that delivers maximum performance while requiring minimum maintenance. Over 50,000 hours of field and lab testing proves that we have delivered on that promise with the Series 5000 eAPU."
The Idle Free Series 5000 eAPU was tested for pulldown and runtime in an 80-in. sleeper with R-2 insulation. It cooled the sleeper to 73 degrees in less than five minutes in an ambient temperature of 95 degrees and the truck only needed to be started once during the rest period, according to the company.