The following comes from the September 2018 issue of Truck Parts & Service. To read a digital version of the magazine, please click the image below.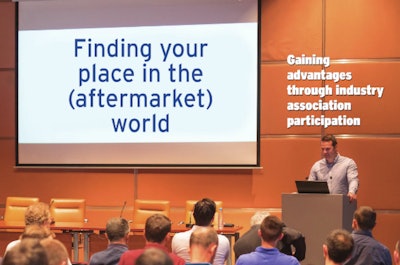 The independent aftermarket has a smorgasbord of industry associations. There are groups for distributors, service providers, suppliers, remanufacturers and rebuilders. There are groups where the multiple segments interact and groups where they remain isolated. Each group's mission statement is different, but the messages are the same: these associations exist to support the independent aftermarket and the vitality of its businesses.
For business owners, the plethora of options is reassuring. But it's also daunting. How does one pick the right group to join when there are so many options? According to those in the know, the key to finding the right group for an aftermarket operation first requires a business owner to determine exactly what it is he hopes to learn.
"Every association is valuable, but how much someone gets from a membership will vary depending on their work or operation," says David Fehling, executive director at the Association of Diesel Specialists (ADS). "Some organizations have a little crossover, but for the most part I believe every group we have [in the aftermarket] has a unique benefit for its members."
Most aftermarket associations provide a combination of five distinct benefits: training, access to information, networking, marketing and legislative influence.
Training
Every association in the independent aftermarket offers training for its members. Some groups were founded specifically to organize technical training opportunities for members, while others include training as one of several membership advantages.
Additionally, the focus of each organization's training curricula varies depending on the group's position in the aftermarket. An independent distributor with a service department may require membership into multiple groups to acquire the various training necessary to educate its entire workforce.
Many experts say training alone is a worthwhile reason to join an industry group.
"I have guys who say to me, 'I can't afford to send a tech away for two days,' and my response is always, 'You can't afford not to,'" says Gordon Botts, ACOFAS education chairman. "'How are any of your people going to learn otherwise?'"
Fehling adds, "Think about the amount of time someone [in your business] spends scratching their head trying to fi gure something out. That is crucial time you cannot get back."
Access to information
Some industry associations also lever-age their size and status to request or demand valuable product and service data for their membership. This was witnessed most recently in the aftermarket with the efforts of CVSN and its Commercial Vehicle Right to Repair Coalition, which negotiated with truck OEMs to acquire access to proprietary technical and diagnostic information for independent service work.
In bringing together its members, as well as the support of several other industry groups, CVSN was able to pressure OEMs into conversations independent service providers never could have achieved on their own.
"It always helps if an industry can speak as one voice," adds Sheila Andrews, director, heavy duty markets and liaison at HDDA: Heavy Duty.
But information isn't always intentionally inaccessible; sometimes it's just hard to find. In those cases, associations can be counted on to do research that benefits all of its constituents.
"CVSN and our members are committed to seeking out new ideas, opportunities and efficiencies," says Angelo Volpe, CVSN executive director.
Networking
The sharing of best practices and industry knowledge is another benefit found through most aftermarket group memberships. Many organizations were built on the foundation of open communication and partnership, and to this day these groups cater their events around opportunities for members to develop relationships that can be lever-aged throughout the year.
SSA Executive Director Craig Fry says the opportunity for members to network with peers is a benefit that "cannot be overstated.
"When these folks get together at our annual convention, the topic of conversation is business," he says. "They are extremely generous and willing to share their thoughts and ideas."
Scott Tetz sees the same at ITPA meetings. As the organization's executive director, Tetz says ITPA brings together professionals from all positions in the aftermarket supply chain to discuss and enhance their business relationships. "When we have a meeting, our members get the chance to talk with every-one," he says.
Marketing
This is an area where buying groups become invaluable. VIPAR Heavy Duty and HDA Truck Pride offer services and solutions to help their stockholders reach customers on a local, regional and national level.
VIPAR Heavy Duty Vice President of Business Development Jim Pennig says the company's business development team works with its members and supplier partners to help create demand for additional sales opportunities and support its commitments to national accounts. The two groups also work with their members to develop customized marketing strategies that, when coupled with strategic objectives, help each distributor increase sales within its marketplace.
"We continue to push our members toward growth opportunities," says Tom Tecklenburg, HDA Truck Pride chief commercial officer.
Performance standards developed by associations also can prove to be useful marketing tools, such as MERA's Manufactured Again certification program."[Manufactured Again] aims to set the quality of reman on par with new," says David McGuire, MERA director of membership and business development.
Legislative support
Possibly the most influential benefit of industry associations comes from their efforts communicating with or lobby-ing government agencies and legislators. When factors outside the independent aftermarket put the health of the channel at risk, there's a significant advantage to all parties banding together to defend their businesses and livelihood.
"A singular distributor can have an impact on what is happening outside of his business, but the effect is minimal," says Andrews. "If you bring hundreds of distributors together, then you can make a much larger impact."
Running a business is difficult enough. Industry associations provide business owners assistance in addressing business challenges they are struggling to manage independently. They enable business owners to focus on what really matters — helping customers every day.
After all, "there's only so much one person can do in a day," says Don Reimondo, president and CEO at HDA Truck Pride.