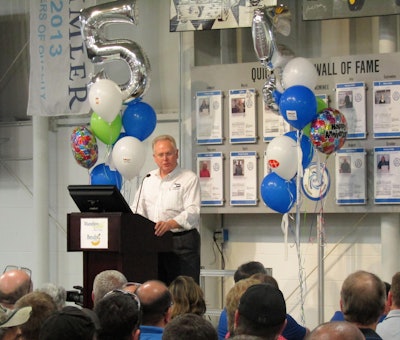 Bendix recently celebrated the fifth anniversary of the on-site health center at the manufacturing complex of Bendix Commercial Vehicle Systems in Huntington, Ind. The Bendix Health Center, which opened in September 2013, reflects Bendix's long-standing commitment to employee and family health and wellness, according to an announcement.
At the health center, which is staffed by a nurse practitioner and medical assistant, employees receive preventive, primary and acute care services, follow-up care and referral management. The center is operated through a partnership with Marathon Health Inc., and provides other services as well, such as health assessments, health coaching and disease management. The Marathon Health on-site health center also serves the spouses and children of Bendix employees. On-site clinicians can either serve as employee primary care physicians or coordinate with employees' current doctors.
"The on-site health center at Huntington is an important part of our enduring commitment to promote the wellness culture at Bendix. It's an aspect of our company that has grown exponentially over time," says Carlos Hungria, Bendix chief operating officer. "As a company, we are guided by the long-standing Bendix Be Healthy mission, which is to help employees and families live and perform at the top of their game at work, at home and into retirement. With our emphasis on prevention and early detection, we strive to do everything we can to make healthy living easier and more convenient for our employees and their families."
The anniversary event also doubled as a dedication. In a surprise presentation, Bendix dedicated the health center to Mike Pogorelc, who served as Huntington plant manager for the last 17 years before being named vice president of supply chain excellence at Bendix. Pogorelcm the originator of the idea for the center, retired this month after more than 28 years of service at Bendix.
Employees, who can visit the center during their shift, average 4.4 visits per year — a number that has gone up every year. Dependent participation was 27 percent in 2017, up 9 percent from 2014. Surveyed last year, employees gave the center a 100 percent patient satisfaction score, and 25 percent said they wouldn't have gotten care if not for the on-site center. The Huntington Health Center has increased its weekly hours of operation from 20 to 30 since launching. It also stays open late one night a week.