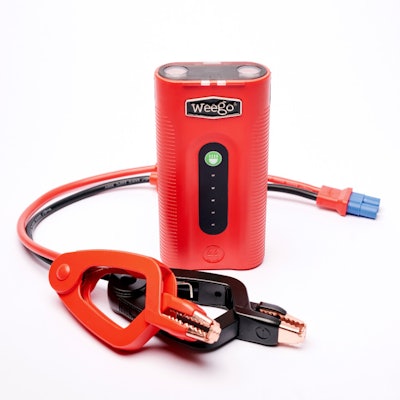 Weego has introduced improved Jump Starting Power Packs, the Weego 44 and Weego 66. These compact, rugged power packs feature increased power and additional features, according to an announcement. The upgraded Weego 44 will be available this October and the upgraded Weego 66 will debut in December.
Spec'd with 10 percent more true cranking amps of power, Weego 66 now offers 660 cranking amps (2500 peak amps) while Weego 44 has increased to 440 cranking amps (2100 peak amps). Weego Jump Starting Power Packs are built to satisfy any of the jump-starting needs of outdoor enthusiasts and professionals alike, including tow operators on land and sea doing multiple jumps a day.
The Weego 44 also is outfitted with Weego's AutoBoost technology. Built into Weego 66, the technology enhances the jump-starting experience for extra challenging, low-voltage vehicle batteries. With AutoBoost, maximum power is automatically sent to dead batteries (batteries down to 1/2 volt) without an override button which can compromise safety. This new feature eliminates all guesswork but is still incredibly safe for the user, the company says.
"We listened and responded to what our customers want," says Gerry Toscani, Weego CEO. "The upgraded capabilities of Weego 44 and 66 provide increased power and ease of use at an unmatched value. The fact that our Jump Starting Power Packs can jump at such a low voltage without compromising safety for the user, their Weego or their vehicle is a testament to our continuous improvement initiatives. Weego's mission is to always give customers safe, reliable, easy-to-use products that last."
Also new to both products are space-saving, vertical-format packaging, which includes bright graphics with clear callouts to the increased cranking amps, updated Jump Starting Power Pack name and more expansive gas and diesel engine size compatibilities. Each SKU is identified with new model numbers 44.1 and 66.1.