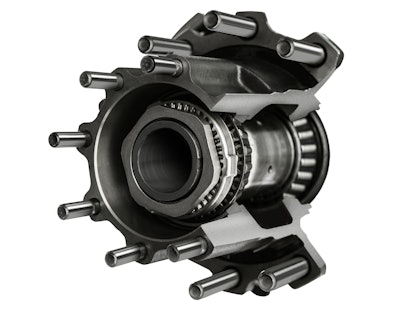 STEMCO announced Tuesday its new Trifecta Pre-Adjusted Hub Assembly is now available to customers.
The wheel end system was first introduced at the 2018 Technology & Maintenance Council (TMC) Annual Meeting in Atlanta and developed in partnership with Webb Wheel Products.
"After years of successful trials with the Trifecta, we're eager to see its impact on a broader scale," says Eric Vaillancourt, president at STEMCO. "The Trifecta's all-in-one design and performance is truly an industry-first, extending wheel end life while providing unmatched contamination prevention. In the end, we're proud to offer the safety, performance and confidence that our customers desire."
Designed for safety, performance and confidence, STEMCO says the Trifecta is a true all-in-one hub assembly. It features the Discover XR (extreme runtime) wheel seal with GlideLock technology. The seal glides on and self-locks, reducing installation force by 50 percent, with no prelube required — a first of its kind in the industry, the company says. The combination of the Discover XR wheel seal, Webb Wheel's hub and the Defender ESP composite hub cap provides the industry's best contamination and corrosion resistance.
The Trifecta assembly also features STEMCO's Zip-Torq fully unitized axle spindle nut, increasing simplicity and safety for end users. There are no additional clips, keepers, snap rings or screws to install. The self-ratcheting locking feature prevents inadvertent back-offs, the company says. Additionally, installation of the hub assembly requires no bearing adjustment, ensuring the hub is installed correctly, quickly and easily.
The Trifecta is also backed by a long-life, five-year, 500,000-mile warranty for on-highway applications, and is now available for order through STEMCO distributors.