The following comes from the November 2018 issue of Truck Parts & Service. To read a digital version of the magazine, please click the image below.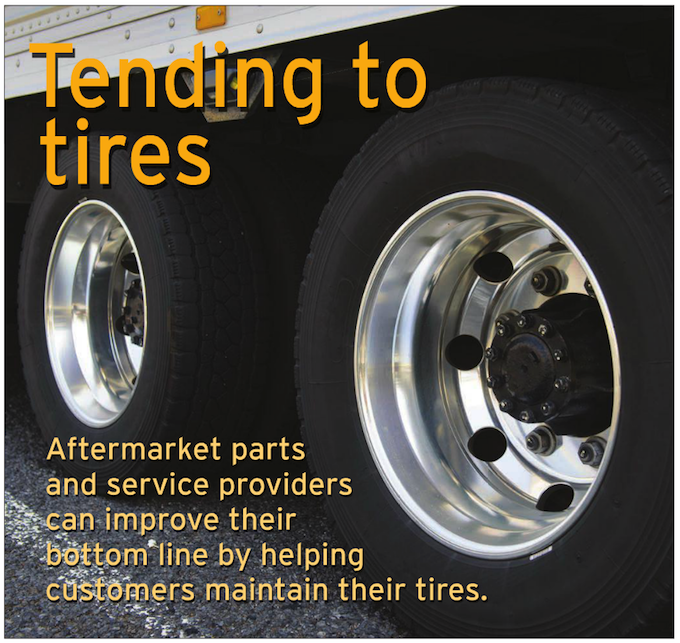 Proper tire care has safety and profitability implications. A blown tire endangers truck drivers and the vehicles around them and ensuring tires are at the right psi enables truck owners to maximize tire life and improve fuel efficiency.
A tire underinflated by 20 percent will reduce its life by 30 percent, and 40 percent underinflation reduces the lifespan by 50 percent, according to the American Trucking Associations' Technology & Maintenance Council (TMC). What's more, the TMC reports a tire underinflated by as little as 10 psi can reduce fuel economy by approximately 1 percent.
To prevent that money from disappearing into thin air, several manufacturers provide automatic tire inflation systems (ATIS) and tire pressure monitoring systems (TPMS).
Aftermarket parts distributors and service providers can add a product category and play an important role in their customers' businesses by selling these systems — many of which can be retrofitted — as well as by offering related parts and service.
What are TPMS and ATIS?
TPMS sensors, depending on the manufacturer, can be located inside or outside of the vehicle tire and they typically report tire pressure and temperature at various intervals, according to Jonathan Gravell, vice president of business development at Pressure Systems International (PSI). The data is transmitted by radio frequency (RF) to a receiver mounted central to the tires and then to the in-cab display. Using telematics, the data also can be sent to the vehicle's home base.
Gravell says the accuracy of TPMS is "far greater … versus slide gauges that can have +/- 5 lb. psi variance and eliminates the need for periodic manual pressure checks."
With ATIS, air from a source on the vehicle runs through a control box, which regulates the pressure, then to the trailer tire that has fallen below its cold pressure, all while the truck is either moving or stationary. Most systems provide an indicator light mounted on the front of the trailer that signals air is flowing and alerts the driver that he might have a problematic tire, Gravell explains.
"We view TPMS and ATIS as complementary technologies, not competitive," he says. "Systems like ATIS and TPMS give you the tools to judge the health of your tires and be more proactive about problems versus letting them become an issue later that will cause you more money and time."
Meritor and PSI have a distributor partnership in which Meritor offers PSI's ATIS to OEMs and the aftermarket as MTIS by PSI. "It's a simple system that works," says Krishna Natarajan, Meritor's senior director, product management, aftermarket North America.
The system also features ThermALERT, which is wheel end heat-sensing technology incorporating a signal light on the trailer body to alert drivers of overheating wheel ends so that they can take preventive action to avoid damage.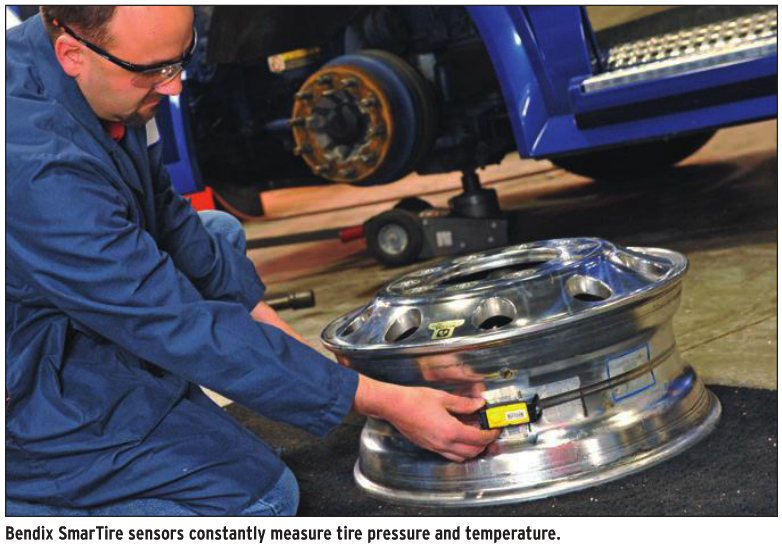 Bendix Commercial Vehicle Systems offers the SmarTire TPMS system, which signals when the tire pressure gets too low, or the tire temperature gets too high.
The SmarTire system uses a TPMS sensor installed inside the tractor tires to measure pressure and temperature and broadcasts that to an electronic control unit mounted on the vehicle that communicates to either an OEM integrated display or a display Bendix offers to alert the driver. Wheel-mounted sensors in the trailer tires detect tire condition and provide a lighted indication on a trailer-mounted lamp that drivers can check in their side mirror, says Jon Intagliata, TPMS and trailer ABS product manager at Bendix.
SmartTire offers a series of alerts, which are customizable by the fleet, based on tire pressure and temperature, and the system factors in what a tire's pressure should be at a certain temperature. "We try to take the guess work out of it," Intagliata says.
Another benefit of the system is it uses telematics to send tire data to the back office, enabling fleets to take control of the issue and decision making versus the driver. "It allows the fleets to decide if [the situation is] critical and they want to direct the driver to a certain location to have it serviced, or if they want the driver to continue on and they'll service it at a later time," Intagliata adds.
STEMCO offers the AirBAT TPMS that checks tire pressure approximately every two seconds and offers different alert options, according to Bill Power, STEMCO national sales manager for Innovative Tire & Mileage Solutions.
If a tire is improperly inflated, a light will go on at the end of the axle, enabling the driver to determine which tire requires attention. The AirBAT can be coupled with STEMCO's driver alert system (DAS), the AirBAT RF DAS. With the DAS, a light will go on in the cab to notify the driver to stop and check which axle end is illuminated. The Air-BAT RF also will send information back to the home office using telematics that includes which tire is underinflated and the tire pressure, Power explains.
Another feature of the AirBAT RF is it will automatically drop the signal from the sensors of a previous tractor and pick up the sensors of the new one after driving approximately 200 feet.
STEMCO offers the HandBAT hand-held device for checking tire pressure in the yard. The device can read up to 400 sensors before it writes over the first, and accompanying software enables the user to download the data to a computer and create a spreadsheet.
STEMCO also offers an ATIS, called AERIS. When any trailer tire is taking air, a light on the front of the trailer will fl ash. A quickly flashing light notifies the driver that a tire is taking in a lot of air and the tire needs to be inspected. The system doesn't indicate which tire is taking air unless the truck has AERIS with SmartSense, which is a device that displays a schematic of the trailer and indicates which of the four wheel ends is taking in air. Like its TPMS, STEMCO's AERIS can transmit data to home base using telematics, Power says.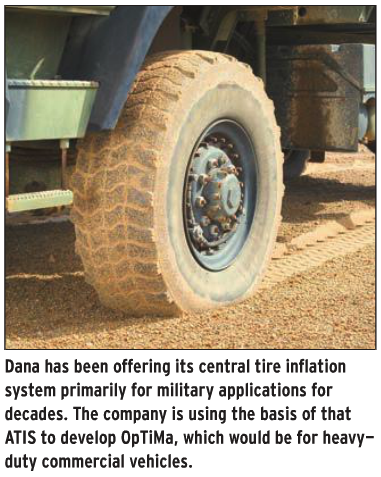 For decades, Dana has been offering its central tire inflation system primarily for military applications. The system can rapidly inflate or deflate tires to enhance vehicle mobility. The company is using the basis of that ATIS to develop OpTiMa, which would be for heavy-duty commercial vehicles, according to Steve Slesinski, director of global product planning for Dana's Commercial Vehicle business unit.
If a tire requires additional air, the system would automatically inflate the tires to the proper pressure settings with-out driver interaction. The system would alert the driver as well as enable fleet owners to monitor the situation to deter-mine the "best alternative to take care of any kind of tire situation," Slesinski says.
Different from other tire inflation systems, Dana's OpTiMa inflates all tires on the truck versus the trailer. Because OpTiMa inflates tractor tires, it would be an ideal OE-installed system, says Slesinski. "We're currently undergoing fleet trials; so we're in the validation phase at this point," he adds.
Aftermarket sales, installation and maintenance
TPMS and ATIS providers agree the sale and service of these tire systems present a good opportunity for aftermarket parts and service providers to strengthen ties with their customers as well as add a source of revenue.
Aftermarket businesses "should be very interested in selling ATIS and TPMS. Not only are they helping to make the roads safer and the fleets more efficient, but ATIS and TPMS technology is a proven ROI for any customer," says Gravell.
As fleets continue to adopt the systems, they will need replacement parts. If the customer is a new adopter — and because retrofitting is possible in most cases — parts and service providers have an opportunity to earn that business by installing the tire pressure systems, he says.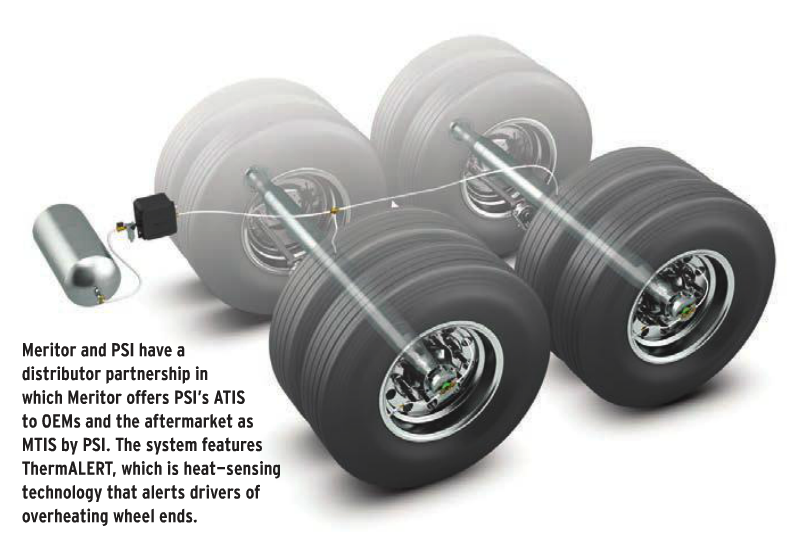 With ATIS systems rotary unions are the most common components requiring replacement. Regarding TPMS, the sensors or their batteries will have to be replaced at some point, Gravell adds.
"It's an exciting product category to help lower cost of ownership for fleets and increase uptime, which is really the key takeaway," says Slesinski. Typical replacement parts for ATIS include seals and hoses, he adds.
Intagliata says typical maintenance includes ensuring that tires are synced with the system if they are moved or replaced.
"If you remove a tire sensor, you have to reprogram a new sensor in its place. Or if you move the tires around to different locations, you have to reprogram those ID codes to match the new placements," he says. "Otherwise the system will think a tire that was originally mounted on the left rear axle is now on the right side of the forward drive axle. When the alert comes on, the driver will check it and it won't be in the place where he or she thinks it should be and will cause confusion."
Intagliata adds TPMS sales are grow-ing at a pace of more than 25 percent year over year.
"It's always good to find a solution that's providing value to the fleet and gives you new revenue streams that you're not currently able to realize," says Jerry Conroy, Bendix regional vice president of aftermarket sales. Whether it's maintenance or retrofitting a truck, "coming in as a distributor with a solution makes you the expert with that feet," he adds.
In the past few years, the sale of tire inflation systems and parts have "really taken off," says Natarajan. As MTIS by PSI is installed on more trailers, more spare parts are being sold.
"There's a lot of small trailer manufacturers who buy trailer axles and related components through our aftermarket. So when they buy a trailer axle, they typically buy a retrofit kit, which is gaining more acceptance in the marketplace," Natarajan says. Tire inflation systems are "a natural sell for our distribution channels."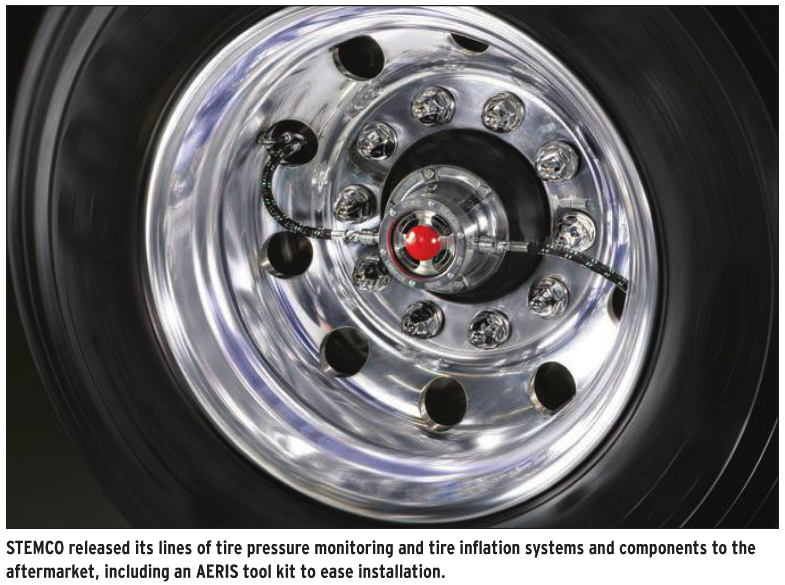 Meritor distributes both full tire inflation retrofit kits and spare parts to the trailer market through its aftermarket distribution system of warehouse distributors and dealers, he adds.
Power says maintenance that service providers can offer includes inspection and replacement, if needed, of hoses and regulators, and checking for any damage to the hub caps, which can damage the ATIS. In addition to STEMCO's products, the company also carries replacement hoses for competitors' applications, he adds.
STEMCO recently released its entire lines of tire pressure monitoring and tire inflation systems and components to the aftermarket, including an AERIS tool kit to ease installation.
Power says aftermarket distributors traditionally have focused on parts such as brakes and lighting, but as manufacturers continue to improve upon their products, they have longer lifespans and fewer are sold.
By selling, installing and maintaining tire monitoring and inflation systems, "they're becoming a solution provider for their customers by helping them lower their cost per mile and improve safety. As fleets lower their cost per mile, they become more profitable and that distributor becomes a very important partner," Power says. All trucks and trailers need tires, so "there's a wide opportunity only capped by [aftermarket distributors'] imaginations."