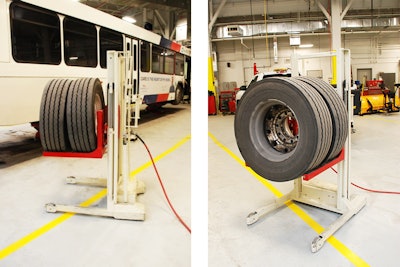 Stertil-Koni has announced it is enhancing ergonomics and versatility on the shop floor with its high lift wheel dolly for heavy-duty vehicle maintenance facilities.
"First and foremost, wheel dollies are used for removal and installation of single and dual wheels on raised buses and trucks," says Peter Bowers, technical sales support manager at Stertil-Koni. "Secondly, Stertil-Koni's popular WDA-500 model high lift wheel dolly has a telescopic crane arm option that turns this model into a universal lifting tool."
The crane arm offers efficiency and stable ergonomics when lifting disc brakes, brake drums, fuel tanks, tool boxes, calipers and many other heavy parts, the company says. Moreover, when it comes to lifting big wheels, the WDA-500 model has a capacity of 1,100 lb. The crane arm on the WDA-500, which is fitted with a 360-degree pivoting hook for greater range and flexibility, swivels aside to allow wheel removal operations to be completed without straining the technician.
"As with all Stertil-Koni high lift wheel dolly models, it dramatically lowers the occurrence of back injuries and abdominal strain because work can be completed at an altitude which is higher than floor level and in line with a technician working in a full standing position," adds Bowers.
The WDA-500 can accommodate wheel sizes from 10.63 to 51.18 in. The dolly stands 47.17 in. high with a width of 45.28 in. and length of 33.3 in. Lifting height is 28.23 in. It weighs 220 lb. The high lift wheel dolly also can be used with mobile column, platform and in-ground lifts.