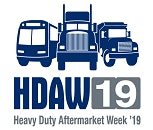 Heavy Duty Aftermarket Week (HDAW), being held Jan. 28-31, 2019, at the Mirage in Las Vegas, will address digitalization in the aftermarket during workshops entitled, "Defining the Heavy Duty Aftermarket Experience" and "Megatrends Driving Digitization in the North American Aftermarket."
Ram ChandraSekar (Chandra), PhaseZero founder and CEO, will present "Defining the Heavy Duty Aftermarket Experience." The workshop will discuss how digitalization for a heavy-duty independent distributor is not just about having an online sales capability. To be successful in today's aftermarket, distributors need to know what technologies to implement to improve their businesses and their digital customer experience to prepare themselves for the future modernization of the aftermarket, according to an announcement.
Three issues facing heavy-duty independent distributors that can be improved with modern-day digitalization include:
Knowing exactly which components to stock and when with new customer demand patterns
The need to accommodate customers that require little to zero downtime for their vehicles
The ability of a distributor to notify their fleet customers in advance of potential failures or necessary essential maintenance while the vehicle is within their service zones
Chandra will discuss the importance of the customer experience to aftermarket distributors, with a focus on the customer life cycle. In his workshop, he will share insights into the process of fully digitizing distributors' businesses to help better understand their inventory and service capabilities. Distributors will learn what technology they need to add or upgrade in their businesses with a roadmap to address the future growing digital needs of their customers.
The workshop, "Megatrends Driving Digitization in the North American Aftermarket," will be presented by Sandeep Kar, chief strategy officer at Fleet Complete, and will outline the impact of digitization on the heavy-duty aftermarket. Kar also will recommend solutions and strategies for leveraging telematics and utilizing it to turbocharge distributors' businesses in the new digital era.
Digitization is bringing fundamental changes to all corners of the heavy-duty aftermarket, creating new business models and new customer engagement platforms. Connected vehicle technologies driven by telematics applications such as remote diagnostics and prognostics, coupled with the rise of e-commerce, is necessitating recalibration of service, maintenance design and delivery mechanisms, according to an announcement.
Research indicates approximately 35 percent of all commercial vehicles in the U.S. already are leveraging telematics services, a figure that is expected to reach 80 percent by 2025. In this era of rapid proliferation of connected vehicle technologies, heavy duty independent aftermarket distributors are faced with the need to rapidly embrace telematics and other digitized service, maintenance and distribution technologies that will enable stakeholders to gain the speed and scale needed to create value for their customers and investors.
The 14th annual HDAW will be held January 28-31, 2019 at The Mirage in Las Vegas. HDAW is the largest North American gathering of the independent heavy-duty aftermarket industry. More than 2,500 executives and managers from the U.S., Canada, and six other countries – including distributors, suppliers, service providers, educators and industry media – attended the 2018 conference in Las Vegas.
For more HDAW information, CLICK HERE.