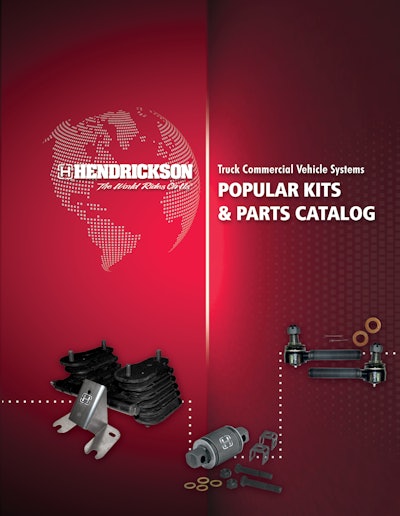 Hendrickson announces the publication of its updated Truck Suspension Systems Parts Catalog.
The company says its full line of parts, including front and rear suspension kits and service parts, can be browsed in the new catalog (SP-100 Rev. H). This update features 25 additional exploded views and an additional 84 pages to help simplify identification, specification and selection of Hendrickson truck suspension systems parts. The company says the publication works well as a companion tool with the Hendrickson website.
"Equipment uptime is our top priority.  Providing a comprehensive Truck Systems Parts Catalog with accessible selection guides, schematic diagrams, service kit options, and much more, is key to ensuring that our customers can easily find the right part the first time," says David McCleave, director aftermarket, Hendrickson.