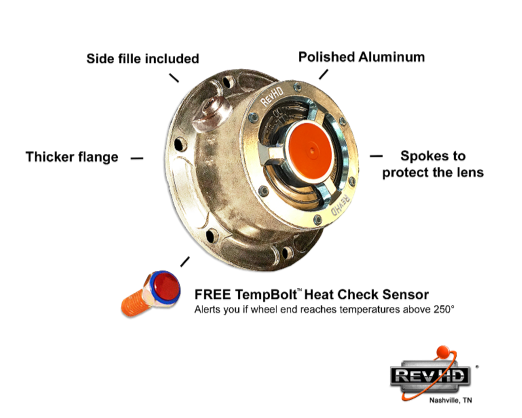 RevHD have produced a new line of severe duty hub caps that can alert drivers if a wheel end reaches temperatures above 250°F.
"We are calling it a 'severe duty' hub cap because, like our wheel seals, all the engineering and design for this hub cap was focused on off-road and extreme hauling conditions. The hub cap features spokes across the lens and utilizes thicker material for a more solid build," says Brian Beathard, RevHD national sales manager.
In addition, every box comes with a free TempBolt, which is a heat check indicator that extends if the wheel end temperature reaches 250°F or higher. This indicates the potential for heat damage to the bearings, hub or spindle, the company says.
"Everything about this hub cap is designed to help keep the wheel end safe," says Beathard. "The included TempBolt offers a solution for those wanting to know if their wheel ends need to be checked for heat scorching and other heat related issues."
RevHD currently offers its hub cap in a standard six-hole, TN trailer version and in a PSI version. Later in the year, the company says it plans to produce a steer version and a TP trailer version of the hub cap.
RevHD also offers a no-questions-asked warranty. And, if the shop technicians take their free online training course, their warranty includes the brakes. The new RevHD hub cap is made of polished aluminum and includes the gasket and bolts in every box, the company says.