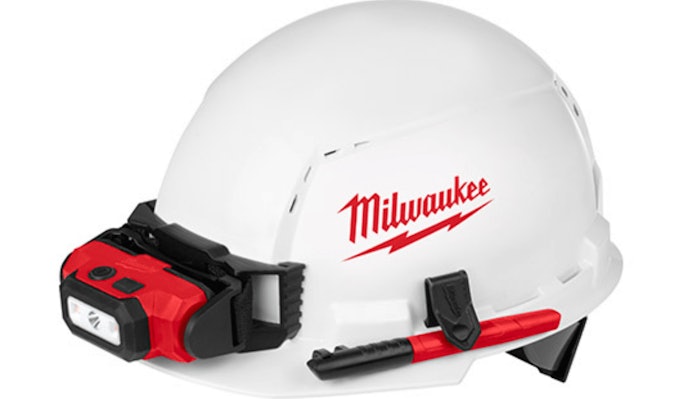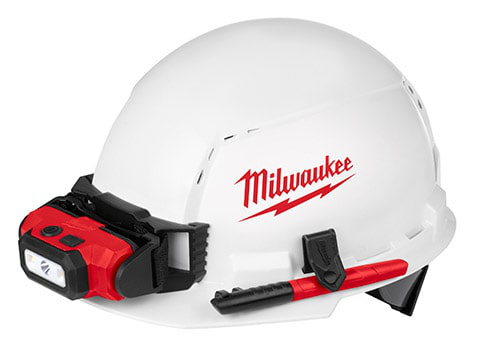 Milwaukee Tool has introduced its new line of personal safety solutions. The initial line will include a range of hard hats, safety glasses, high visibility safety vests, respirators, hearing protection and an extension of its current glove offering.
"We are always looking for ways to help our users get their work done faster and more efficiently, while keeping users safe. Appropriate personal protective equipment (PPE) is critical on jobsites, but many of the current solutions on the market have experienced very little change over time. Users have had only incremental improvements to solutions that already lack versatility, flexibility and durability," says Zach Richman, product manager, Milwaukee Tool.
One of the most common problems with current hard hats is that they aren't built with the versatility to support critical accessories and PPE. Milwaukee says it strategically designed its new hard hats to adapt to the jobsite. The hats feature a Bolt Hard Hat Headlamp Mount that enables users to secure their headlamp to the front or back without having to strap it in. With this feature, users can utilize their headlamp and other accessories simultaneously. The hard hats also feature six total accessory slots—four Bolt accessory slots and two universal accessory slots—allowing users to customize their hard hat for the application, the company says. A ratcheting suspension lets users quickly adjust their hard hat. All hard hats are type 1 and offered in both Class C and Class E, as well as full brim and front brim.
Milwaukee also is introducing three lines of eye protection: Safety Glasses, Performance Safety Glasses and Performance Safety Glasses with Gasket. All eye protection will be available in clear and tinted models. The safety glasses are equipped with anti-fog and anti-scratch lenses and a flexible nose bridge for a more comfortable fit, the company says. As a step up in productivity and durability, the performance safety glasses provide fog-free lenses and military-grade impact protection above the Z87.1 ANSI rating for projectile protection. Finally, the performance safety glasses with gasket feature a removable gasket that protects users from debris. They also feature fog-free, military-impact lenses and are available in clear and polarized models to protect against glare, Milwaukee says.
The High Visibility Performance Safety Vest comes with 15 reinforced pockets, a clear ID holder and a zippered rear tablet pocket that enables users to carry more. The vest has a comfortable padded collar and a reinforced pass-through for fall protection. Alongside the high visibility performance safety vest, Milwaukee also will have a high visibility safety vest that comes with 10 pockets. Both vests are offered in both yellow and orange and is Type R Class 2 Rated. They also will be available in a CSA/ANSI version, the company says.
For increased comfort and productivity on the jobsite, Milwaukee's new N95 Valved Respirators (with and without gasket) come equipped with a valve that reduces heat inside by 10 degrees, the company says. The respirators are equipped with soft, adjustable straps and a flexible nose bridge. The N95 valved respirator gasket incorporates a comfortable, tight-sealing gasket for an even better fit.
Milwaukee's new Ear Plugs and Reusable Corded Ear Plugs offer all day comfort, Milwaukee says. The ear plugs are made of soft, comfortable foam and the reusable corded ear plugs are made of soft silicone. Designed with a tapered shape for a better fit, the ear plugs expand quickly to minimize downtime on the jobsite. The reusable corded ear plugs are corded for easy access and have a quick-fit design for fast use. The Ear Plugs are rated to an NRR of 32dB and the reusable corded ear plugs are rated to an NRR of 26dB.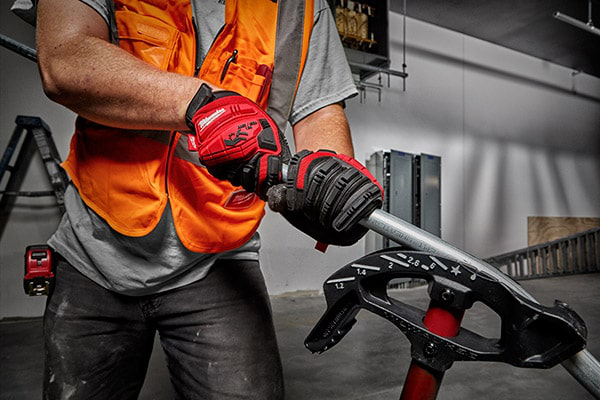 A step up from Milwaukee's current Demolition Gloves, the new Impact Demolition Gloves are built with enhanced TPR on the back of the fingertips and palms. With an ANSI/ISEA Level 2 Impact Rating, these gloves offer protection for users at high risk of hand and finger injury, the company says. The new standard creates clear definitions for full back of hand protection. Rounding out Milwaukee's line of cut-resistant gloves, new High-Visibility Polyurethane Dipped Gloves will be available in ANSI cut levels 2, 3 and 4. They incorporate a breathable, lightweight back for better fit and a nitrile reinforcement between the thumb for better protection. The final addition in the new expansion is the Goatskin Leather Glove. It is created with comfortable top grain goatskin leather and a reinforced palm for a longer life, the company says.