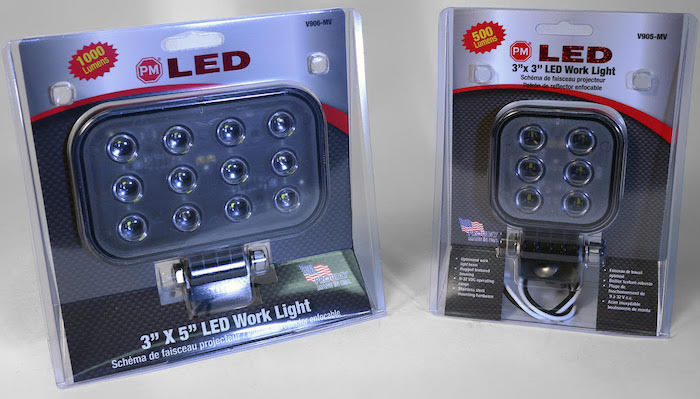 Peterson Manufacturing has introduced its new LED work lights.
These pedestal-mount units, which are made in the U.S., are available in two industry-standard sizes: a 905 Series 3 in. by 3 in. square model and a 906 Series 3.5 in. by 5.5 in rectangular model. Both models feature a low-profile design, high vibration resistance and low amp draw, and are engineered with a reinforced pedestal mounting insert and stainless steel hardware, the company says.
The 905 and 906 LED work lamps were designed with an all-new, fresh optic design resulting in high efficiency and a highly optimized light pattern. The 905 Series provides a 500-lumen output, while the 906 Series puts out 1000 lumen. Both series are available hardwired, with either stripped leads or .180 bullet terminals.
An optional AMP-compatible receptacle integrated into the housing allows OEMs to install lamps directly into their vehicle/trailer harness.
Peterson says additional features include: Light-weight, low-profile design is 1.39 in. thin; optimized work light beam pattern for even, general area illumination; rugged, textured polymer housing and lens; designed to conform to IP67 rating; 9-32 volt operating range; and available in Viz pack (retail), poly pack and manufacturing pack.