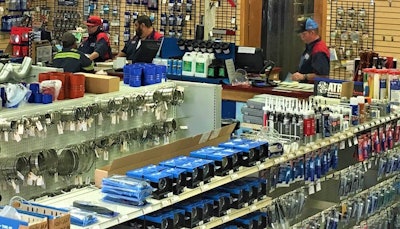 The Commercial Vehicle Solutions Network (CVSN) continues to expand. The association announced its third new member in less than on month Thursday when Texas Trucks Direct was formally announced as CVSN's newest member company.
Also a member of HDA Truck Pride, Texas Trucks Direct started in 1982 as a two-man service operation. With many changes over the years the company has grown and expanded both its parts and service departments, and began to strictly focus on the trucking industry in 2017.
The company operates a 6,000 sq.-ft. service bay, has more than 100 years of aftermarket experience in its parts department and offers a variety of parts and services, such as after-hours emergency parts, custom hydraulic hoses, a PTO rebuilding program, the ability to machine flywheels, delivery, and A/C line repair, the company says.
"CVSN seems to be the next step naturally to take to further network with establishments in our industry," says Cristy Cozby, vice president, Texas Trucks Direct. "In our industry ran by OEs, we feel it is important that the aftermarket stands together."
"We are very pleased to have Texas Trucks Direct as the latest addition to our quality member lineup. CVSN continues to grow and we are very excited about the future of not only our association but also the heavy-duty aftermarket industry," adds CVSN Executive Vice President Angelo Volpe.