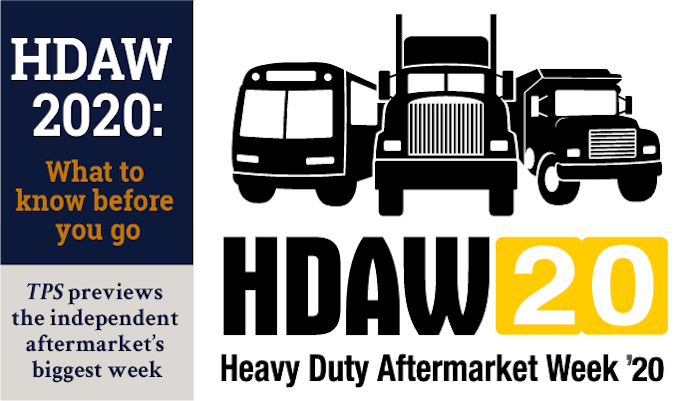 "The People's Shark" is coming to Heavy Duty Aftermarket Week (HDAW). Daymond John, founder, president and CEO of FUBU, and star of the hit business investment television show "Shark Tank" has been confirmed as the keynote speaker at the upcoming 2020 aftermarket event.
John is an exciting and unique get for HDAW due to his impressive entrepreneurial background.
He founded FUBU in his early 20s during his off hours while working full time in the food service industry, making his first clothes by hand and selling them on consignment at local shops and markets around Queens, N.Y. As his business grew, John and his mother twice mortgaged her house to acquire capital necessary to expand John's clothing production and once purchased a full-page ad in the New York Times to attract investors for FUBU after being turned down for a loan by more than two dozen banks.
Each gambit worked and, within three years of its founding, FUBU had developed an extensive sportswear line produced by sourcing raw materials imported from all over the world.
To date, the company has now totaled more than $6 billion in retail sales and has been carried by more than 5,000 stories worldwide.
"I think Daymond John is one of, if not the best speaker HDAW has ever had," says Sean Ryan of Point Spring & Driveshaft and HDAW 2020 distributor co-chair. "What he's done in his career in growing and leading a business is fascinating, as is what he's done on 'Shark Tank.'"
Both Ryan and supplier co-chair Tim Bauer of Eaton are eager to learn more about John's early years with FUBU and how those experiences shape his approach on "Shark Tank," where his interest and commitment in supporting aspiring business owners has earned him his affectionate nickname. They also are eager to learn more about John's expertise in branding, marketing and promotion.
FUBU's ascent in the clothing world can be traced back to John's branding prowess and, today, in addition to his responsibilities at FUBU and on "Shark Tank," John also serves as a branding consultant who helps companies strengthen their brand presence and leverage their brand's reputation to create additional products and revenue streams.
Says Bauer, "We cannot think of anyone more suited to speak to the importance of adapting your skills and planning for future success through growth-focused tactical marketing and creative branding strategies."
Ryan also notes John's entrepreneurial experience differentiates him from other executives who have provided keynote addresses at HDAW because John wasn't hired into his business; he built it from the ground up. "I think his entrepreneurial spirit will speak to the majority of the audience," he says.
John's acumen in the business world also has earned him numerous accolades. He was named a Presidential Ambassador for Global Entrepreneurship under the Obama Administration and is a two-time New York Times best-selling author — most recently for his book "Rise and Grind." He has been bestowed the NAACP Entrepreneurs of the Year Award, the Congressional Achievement Award for Entrepreneurship and many other honors.
John's keynote address is scheduled for 11:30 a.m. CT, Tuesday, Jan. 28, during the first full day of HDAW. After years of including the keynote address within HDAW's opening general session, this year's co-chairs say they moved John's scheduled presentation to later in the day to more evenly spread out the presentations and educational sessions of the day. John's presentation will follow two hours of workshop breakout presentations (to be profiled in this space in the coming weeks) and immediately precede the HDAW's networking lunch at 12:30 p.m.
Adds Bauer, "[John] can share his knowledge about branding, running a business and dealing with market changes in a way that can set the stage for the whole week."
This is the third of eight Trucks, Parts, Service articles previewing Heavy Duty Aftermarket Week (HDAW) 2020. The fourth article in the series will address one of three workshop presentations scheduled for the event and will be posted next Tuesday. Prior HDAW 2020 preview articles can be found below.
HDAW 2020 Preview: Despite new home, co-chairs say same great event planned for January
HDAW 2020 Preview: The industry's biggest week expands; now features trio of complementary events