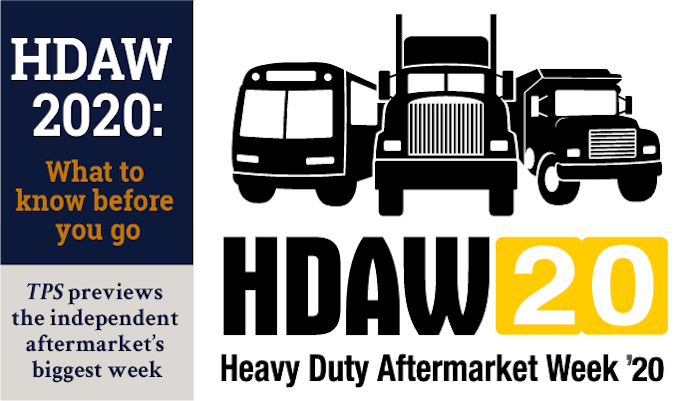 For decades, success in the heavy-duty aftermarket has been contingent on providing customers value. Whether servicing the nation's largest private carrier or a single-truck owner-operator, aftermarket operators have long known that gaining and maintaining a customer's patronage requires the ability to provide more than just parts.
Good customers don't want suppliers, they want partners. They want associates on which they can rely.
But as the trucking industry progresses and data supplements componentry as the most valuable asset inside a truck, Decisiv's Rob Bradenham and Mark Wasilko say today's aftermarket customers expect more than value. They also require information.
"This is a conservative industry, but it's also an industry that's evolved quite a bit in recent years," says Bradenham. "Historically if you've been a business that stocks a lot of parts or was easy to order from, that was your value in the market. But today's customers want so much more than that. [Today] they want everyone who is working with them to also be connected to them. They want access to all of the data and information their partners have …. And they want that data to be accessible in one place."
During a breakout session at Heavy Duty Aftermarket Week (HDAW) next month in Grapevine, Texas, Bradenham will address the data explosion that has occurred in the trucking industry over the last decade, the challenge this information overload has created for vehicle owners and how aftermarket businesses can assist their customers by distributing their information in a uncomplicated and manageable way.
Bradenham says it is that final point, in particular, the duo hopes to emphatically convey at HDAW.
Today's fleet managers don't want to be required to bounce around the Internet to keep up with their equipment, he says. They don't want to be expected to remember scores of passwords and web addresses just to see how many brake shoes they ordered and had installed last month. When it comes to data, like drivelines, dash cams and differential parts, today's fleet customers want one-stop shopping.
"It's time for us to understand that our customers have certain platforms they want to use to do business and we need to connect our systems to those platforms," Bradenham says. "We need to build ecosystems where customers can access all of their data; no one wants to go to your shiny new portal if they don't have to."
Wasilko says that's where companies like Decisiv come in.
Over the last 15 years Decisiv has worked to create a service event management ecosystem that enables fleets, service providers and their supplier partners to connect and share with one another all relevant information for a service event in real time. By pulling this information from hundreds of disparate systems into one easy-to-read, easy-to-understand platform, Wasilko says Decisiv dramatically reduces the time it takes a fleet maintenance manager to receive updates on his equipment while also increasing the amount of data available to him and the speed in which he can communicate with his supplier and service partners.
Wasilko and Bradenham believe the Decisiv system can service as a blueprint for the entirety of the aftermarket. As more commercial fleets and owner-operators experience these connected communication systems, Wasilko says the less likely they will accept siloed data distribution from other sources.
"Customers don't want to deal with islands or stovepipes. They want to transact seamlessly. It can't be my way or the highway," Wasilko says.
Yet the Decisiv duo also recognizes the obstacles that exist for small aftermarket businesses in committing to a connected ecosystem future. That's why they say the independent aftermarket must rely on its supplier partners and challenge them to develop connected solutions that serve their customers and channel partners alike.
"You need to be able to bring something to the table other than the price level," Bradenham says.
Bradenham's breakout session will be held twice, from 9:30-10:15 a.m. and 10:30-11:15 a.m. CT, Tuesday, Jan. 28, 2020, during HDAW.
This is the fourth of eight Trucks, Parts, Service articles previewing Heavy Duty Aftermarket Week (HDAW) 2020. The fifth article in the series will address another of the three workshop presentations scheduled for the event and will be posted next Tuesday. Prior HDAW 2020 preview articles can be found below.
HDAW 2020 Preview: Despite new home, co-chairs say same great event planned for January
HDAW 2020 Preview: The industry's biggest week expands; now features trio of complementary events
HDAW 2020 Preview: 'Shark Tank' star to talk branding, entrepreneurial skills during keynote address