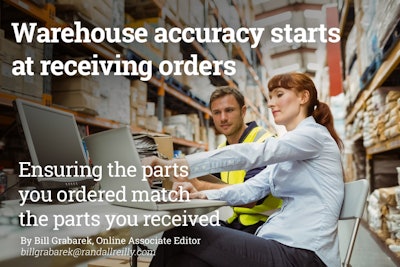 Having an accurate account of one's parts inventory is vital to the smooth running of any parts or service provider.
Imagine a customer calls to see if a part is available. The parts provider checks the computer and his inventory indicates he has it. The customer makes the trip only to find out his parts provider doesn't have it. Or, a technician is pulling parts for a job he's working on and can't find what he needs despite the computer telling him otherwise.
Both of these scenarios can be costly. They can cost time, money and, worse yet, a customer.
Guaranteeing you have the parts you think you have starts at the beginning — a process to accurately document, manually or electronically, parts shipments.
For Middleton and Meads, receiving parts deliveries became much easier and more organized after it relocated its main location last summer and designated an area for shipping and receiving. The company also dedicated an employee in charge of receiving parts.
"Our parts people who do the ordering are not receiving parts anymore. Shipments are being received in a centralized area. Everything that comes through the door comes with a packing slip or an invoice. The clerk checks off that the parts are here, signs off on it and turns it into the parts person," says President Ron Middleton.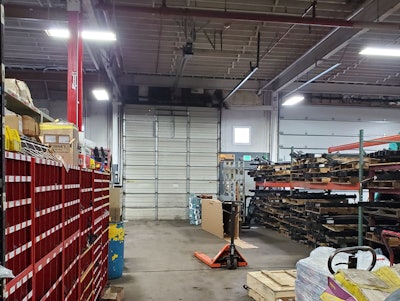 The employee receiving the shipments will then be directed where those parts need to be, for example, stored in inventory or in a technician bay if certain parts are needed for a truck repair, Middleton adds.
When Royal Truck & Trailer receives a shipment, the first step is to confirm the correct number of pallets received according to the freight company's shipping document, says Adam Pigeon, chief operating officer.
"It's almost impossible to guarantee that all the products within a bunch of big boxes are all there until you can actually go through the check-in process, but most freight companies are not going to wait for you to do that," Pigeon says.
All unchecked skids have a red cone placed on top of them so employees know they haven't been checked in. Working off the packing slip, teams of two check in the order to ensure all parts have been delivered.
"We work in teams of two for accuracy purposes," Pigeon says.
Once the inventory is checked, the computer system will print a bin sheet and the warehouse staff stocking the product also act as another set of eyes making sure the company received the parts it ordered, Pigeon says.
A couple of years ago, Texas Trucks Direct adopted barcode scanning to maintain better control of its inventory.
"We have eliminated most of our counting errors with that," says Parts Manager Sean Mayfield. After the barcodes are scanned the company puts a posting reference number on each part so it can be tracked through a point-of-sale system using Karmak Fusion, Mayfield adds.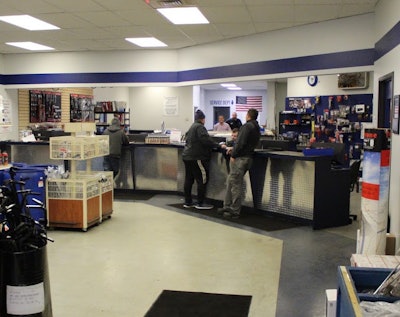 Something doesn't add up
Given the volume of parts ordered and received by parts and service providers, discrepancies are bound to occur. Noticing them quickly is the best bet to avoid getting caught not having what you need for a customer.
After the warehouse scans the parts at Texas Trucks Direct, up to three people will look at the paperwork to ensure the delivery is in order. Mayfield says either he or Owner Jerry Cozby will review it and then it goes to the accounting department, "which catches errors as well," Mayfield says.
Cozby says, "Rather than keeping mounds of paperwork, we do everything digitally and scan it all into our system so we can pull them back up later if there's ever a question" about inventory. The digital paperwork can be accessed by all employees, he adds.
Middleton says discrepancies between what is ordered and received are rare.
"It happens but we have good relations with our vendors," he says. "A good relationship with your vendors will easily straighten out that problem."
In the event of a discrepancy, Pigeon says the company uses a shared spreadsheet with the purchasing department. If an ordered part isn't in the delivery, the part number is added to the spreadsheet.
"The purchasing team will communicate back to the vendor that there's a missing item or an additional item. A lot of times we will have extra of some parts and a shortage of other parts. If we sell the extra part, the vendor will bill us for the part we were able to sell and send a credit memo for what was missing," Pigeon says.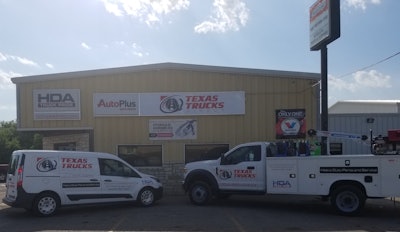 Have a plan
A centralized receiving area, barcode scanning or working in teams are possible solutions for parts and service providers wanting to keep better track of incoming parts shipments. The importance of a healthy relationship with vendors also shouldn't be discounted.
For Middleton and Meads, the receiving area "has been awesome." Prior to the designated area, "we had parts being dropped off everywhere and anywhere … and it was very hard to control. It comes into an area now that needs to stay clean — meaning parts have to be received, checked in and moved quickly because you have other shipments coming."
Texas Trucks Direct has opted to go with barcode scanning to remove human error as much as possible. This method, however, comes with a caveat.
"Barcoding is an all or nothing situation. It's quite a bit of work to implement it but it's well worth it. Barcoding has increased our accuracy," Mayfield says.
Distributors and vendors can make mistakes, says Pigeon. "As long as you maintain a good working relationship through those mistakes, you can come to a resolution that works for both parties, even if you find an error months later," he says.