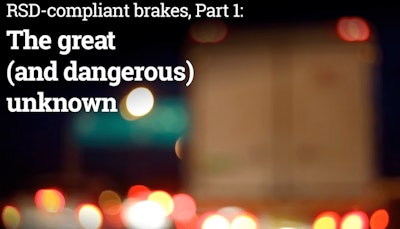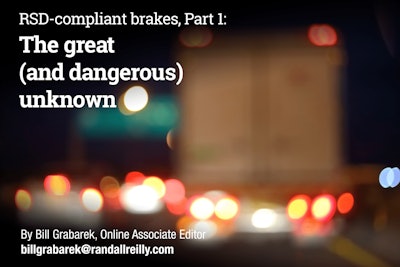 Despite the federal requirements regarding reduced stopping distance (RSD) for heavy-duty truck tractors being on the books for nearly a decade, many industry experts contend there a concerning number of truck owners who don't know about the rule or don't heed the dangers of replacing RSD friction material with non-RSD friction.
"Most people today when they come in and are looking for brakes don't even ask for the RSD friction material. Rarely in the field does it come up. That's the reality of it. Our team is instructed to ask the customer which material they want, RSD or not, at the onset of the conversation," says Michael Lerach, sales manager, Blaine Brothers.
"Some second and third owners are not familiar with the brake friction originally on their truck and it's different than what they have historically purchased," says Eric Coffman, aftermarket product manager, shoes/friction, Meritor. "We've spent a significant amount of time and effort to educate the industry about these [RSD] materials. To say it's totally understood would be an overstatement."
Wheelco Product Manager Jerry Podhradsky says there are misconceptions that RSD-compliant brake products are "too expensive or reduce the lifespan of other parts, but this can be fixed with a quick conversation."
The final rule amending Federal Motor Vehicle Safety Standards (FMVSS) No. 121, put forth by the Department of Transportation's (DOT) National Highway Traffic Safety Administration (NHTSA), was implemented in two stages. The first stage, which affected more than 90 percent of heavy-duty trucks went into effect Aug. 1, 2011, and required all new trucks to be able to stop within 250 ft. after traveling at 60 MPH while loaded to their gross vehicle weight rating. The remainder of heavy-duty trucks, a very small number of severe-use tractors, had until Aug. 1, 2013, and are required to stop within 310 ft.
"To make the stopping distance requirement, it took a lot of additional engineering by the OEMs to upgrade the vehicle," says Randy Petresh, vice president, technical services, Haldex.
"The biggest change was the mandate for larger steer axle brakes. To increase that stopping distance you get significantly more load transfer from the rear of the vehicle forward, so you have to significantly increase the performance of the steer axle to absorb that increase weight transfer and that's why the brakes … went from a 15-in. brake to a 16.5-in. brake," Petresh says.
"You also have suspension, steering and structural requirements that all had to be considered and addressed by the tractor manufacturers. They had to upgrade the whole front end in order to absorb that significant increase and transfer of torque and load transfer. At the same time they also had to implement changes to the drive axle brakes to maintain overall vehicle balance," he says.
Where industry confusion and lack of knowledge come into play is when it's time for all those trucks that were engineered for RSD require brake service. Truck owners are not bound by the final rule to replace brake components with RSD-compliant ones.
NHTSA's enhanced stopping distance rule provides a performance-based standard that vehicle manufacturers must satisfy; however, the rule doesn't prescribe the specific methods that truck manufacturers must use to meet the requirements for new vehicles, according to Duane DeBruyne, spokesperson, Federal Motor Carrier Safety Administration (FMCSA). The FMCSA and NHTSA are agencies within the DOT.
Furthermore, "FMCSA's rules do not include requirements that motor carriers must follow to maintain the brake performance capabilities on these new vehicles or govern motor carriers' selection of aftermarket components used in their maintenance programs," DeBruyne says.
Whether it's lacking knowledge or opting for a less-expensive alternative, truck owners could be opening a Pandora's Box when choosing non-RSD-compliant brakes for a truck built in mid-2011 or later.
Safety, liability, performance
Independent aftermarket distributors and brake manufacturers stress the importance of properly replacing RSD-compliant brakes. And they agree on what truck owners face when they don't: lack of safety, potential liability and decreased performance.
"Once a tractor is placed into service, the owner can replace the brakes with non-RSD brake lining. However, using a non-RSD-compliant friction can lead to longer stopping distances which can compromise safety," Podhradsky says.
He says the percentage of customers who replace their OEM brakes with RSD depends on the customer type but, "at Wheelco, we estimate that around 20 percent of the vehicles manufactured with RSD compliant brakes are replaced with RSD brakes."
Bendix and Meritor are two manufacturers that supply OEMs with RSD-compliant brakes. Not only do they urge truck owners to replace their brakes with RSD-compliant ones, but they say truck owners should be replacing the brakes on their tractors with OEM-certified brakes, as both manufacturers' brakes exceed the 250-ft. requirement by 10 percent.
"If drivers get used to driving a vehicle and then you change something on their brake system, it's risky. In high energy or emergency stopping situations, they may not be able to stop in the same manner," says Joe Kay, chief engineer for braking systems, Meritor.
What's more, if truck owners are replacing OEM brake materials with non-RSD-compliant materials, "they're potentially adding up to 100 ft. [of stopping distance] if you compare it with the original requirement," says Keith McComsey, director of marketing and customer solutions, wheel-end, Bendix Spicer Foundation Brake.
"They're taking the vehicle that was intended to stop at under 250 ft. and now potentially adding a tractor trailer length or more based on the performance of that non-RSD friction," McComsey says.
Along with the safety issue, an unexpected increase in stopping distance also can create liability issues.
"The question we ask when we're looking at liability issues is whether the friction was the original friction or something different," McComsey says. "There is always the potential that you could have maybe avoided or lessened the severity of an accident if you had the OE friction on the truck versus an aftermarket friction that increased the stopping distance."
Regarding RSD compliance for service parts, it isn't legislated but it can be litigated, says Coffman.
"A higher percentage of the larger or more visible fleets will choose genuine RSD products because after any incident a good attorney is going to ask about brake system function and components in reference to manufacturer specification," Coffman says. "It's about the fleet maintaining that OE first-fit level of performance."
Petresh says, "Once the vehicle is in service, it comes down to replacing what you have with what I call genuine or OE equivalent parts to maintain the performance of the vehicle, in general, from not only the friction side of things, but the balance, the stability and the control of the vehicle."
CLICK HERE to read Part II.