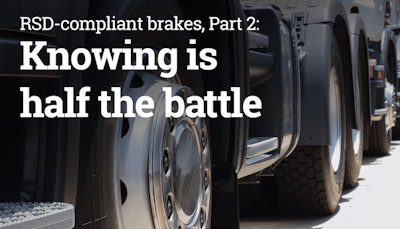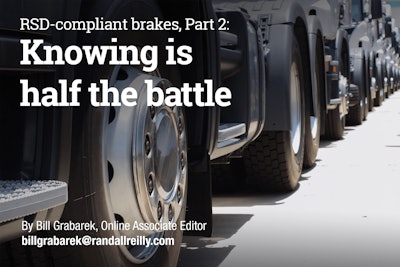 You don't have to talk to too many people in the heavy-duty aftermarket industry to discover there are a lot of truck owners who don't know about a nearly decade-old federal mandate requiring OEMs to improve the stopping distance of their heavy-duty trucks.
There's another segment of truck owners who know about the rule pertaining to reduced stopping distance (RSD), but disregard it when it comes time to having brake service performed. If they own a truck built since the final rule took effect (2011 for most), that truck has been engineered to incorporate RSD brake materials. However, they will choose a non-RSD-compliant option because of cost.
Regardless of the reason for not properly replacing OEM brake materials on their vehicles, they are sacrificing safety and performance, while potentially exposing themselves to liability. Although they can't make the decision for their customers, suppliers and distributors are doing what they can to educate truck owners on the importance of RSD-compliant brake products.
PennFleet Owner Jim Kolea says cost is the most common factor in customers' brake buying decision. Furthermore, Kolea says Penn Fleet's customers, mostly large corporations, spec the brakes they expect Penn Fleet to install.
That said, he adds, "I do believe it is the shop's responsibility to teach the fleets about newer technology, including brakes as well as advanced driver assistance systems and more."
Randy Petresh, Haldex vice president, technical services, says, "There's a large segment of the population who only buy on price and that's big mistake. You don't know what you're going to get because you're not even looking at it from a performance perspective."
Petresh adds, "My field tech guys can sit down and discuss friction material selection criteria and guidelines with any fleet/operator who wants to take the time to review recommendations for choosing friction materials for their application."
Jerry Podhradsky, product manager, Wheelco, says the key is making sure the right people are informed about RSD-compliant friction, so the correct decision can be made.
"One point that is often overlooked is the steer axles are now doing around 25 percent more work than in the past to meet the new stopping distance requirements," he says. "It really comes down to safety and deciding what's best for your company or fleet if you want your equipment to perform as close to the same braking standards as when you purchased the truck new."
He says Wheelco has continuing education for its sales and support staff about RSD. In addition, the company has written blogs and gathered reference material on its website, www.wheelco.com, to help customers.
"If customers ask for RSD-compliant, we have it available for them. If it's older vehicles, not part of the RSD ruling, customers have many options and we try to sell them the right friction material for their vocation," says Michael Lerach, sales manager, Blaine Brothers. "We stock RSD- and non-RSD-compliant materials and we can give customers whatever they would like to buy."
Lerach says the Blaine Brothers staff is ready and capable to educate customers.
"They can explain it because we've done a good job of bringing in brake manufacturers and training our people so they understand RSD. They can explain why they're better and, of course, explain the risks [of not choosing RSD-compliant brakes]," he says.
Bendix and Meritor meet the government requirements and the OEM requirements. As a result, both are able to apply a label to their brakes stating they meet RSD requirements.
"That was an effort for us to make sure technicians who are removing brake equipment see the label and make sure they're putting on something similar before the vehicle goes back in service," says Keith McComsey, director of marketing and customer solutions, wheel-end, Bendix Spicer Foundation Brake.
McComsey says one of the first questions aftermarket distributors should be asking is when the customer's truck was manufactured and it should be mentioned if the tractor falls within the RSD guidelines.
"'You need brakes for a 2014 tractor? That's an RSD vehicle. In order to meet the stopping distance requirements of when the vehicle was built, here is what you should have.' It should be presented in that manner," he says. "It's about bringing more awareness and asking the right questions when customers are making the choice to buy certain frictions."
Eric Coffman, Meritor aftermarket product manager for shoes/friction, says there are two types of fleets: There are fleets conscious of cost per mile and fleets focused on cost per part.
"Meritor has proven performance for fleets focused on the cost per mile. Meritor has targeted efforts on fleets that have historically been focused in this area because RSD-genuine frictions are not the cheapest part you could buy. I'd argue they're the best value or the most economical when you consider total performance, safety and cost per mile," Coffman says.
From the perspective of the aftermarket distributor, Coffman says it's about being a customer consultant. "Create value for the fleet by helping the business run better," he says.
"You get what you pay for," says Joe Kay, Meritor chief engineer for braking systems. Trucks equipped with lesser quality brakes will function differently under different conditions, such as brake fade down a steep decline or inconsistent performance depending on brake temperature and driving speed, adds Kay.
"You want the driver to have a good feel for the vehicle," he says. "We understand everybody has a price point of what they are willing to pay for parts and we go the extra mile to make sure all of our service parts, whether they're OE or the more economical, are going to meet certain requirements in that respect."
While many companies in the aftermarket community are doing what they can to stress the importance of RSD brake material, they can only do so much. Ultimately, it's up to the customer to make the correct decision.
To read Part I of Trucks, Parts, Service's coverage, CLICK HERE.