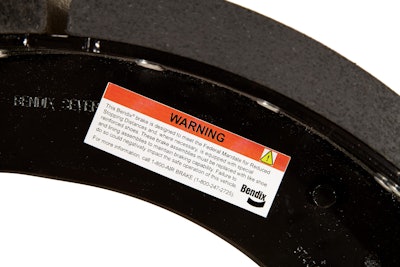 Technicians relining Bendix brakes will soon see something new within the wheel-end. Bendix has announced its high-performance brake shoes will now carry a warning label to help educate the commercial vehicle industry about performance issues related to relining. The effort is part of a comprehensive awareness program by Bendix Spicer Foundation Brake (BSFB).
"This Bendix brake is designed to meet the Federal Mandate for Reduced Stopping Distances and, where necessary, is equipped with special reinforced shoes," the label reads. "These brake assemblies must be replaced with like shoe and lining assemblies to maintain braking capability. Failure to do so could negatively impact the safe operation of this vehicle."
Bendix says the decision to label the shoes comes from industry concern about the first phase of Reduced Stopping Distance (RSD) mandates that debuted in 2011 and the second phase, set to be introduced on Aug. 1, 2013.
"Even two years after the RSD mandate went into effect, we still regularly field questions from fleets and drivers about replacement brake lining performance and RSD compliance," says Gary Ganaway, BSFB director of marketing and global customer solutions.
"There's a lot of misinformation to sift through concerning the certification of aftermarket brake linings and today's high-performance brakes, so the industry's confusion is understandable. It's important for everyone to understand the impact that friction selection has on safety, and that not all replacement friction marketed as acceptable under RSD will actually perform to the standard."
According to Ganaway, the longtime industry standard test for certifying brake linings, Federal Motor Vehicle Safety Standard (FMVSS) 121, is no longer adequate in the RSD environment. Most linings that pass the dynamometer requirements do not meet today's higher vehicle performance requirements.
"Although advancements made in brake engineering and friction material in recent years have significantly improved both safety and performance, those steps forward can be dangerously undermined through relining today's brakes with improper friction material," Ganaway adds.