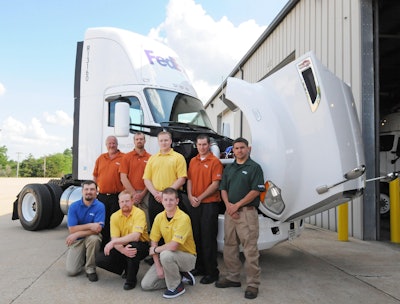 FedEx Freight has selected eight fleet maintenance technicians to represent the company at the industry-wide SuperTech competition.
The technicians earned their spots through a company-wide skills contest known as Top Wrench.
The finalists had the best results from among more than 700 FedEx Freight fleet maintenance technicians who participated in Top Wrench. The technicians faced multiple rounds of competition, including written exams and hands-on skill challenges that tested the technicians' knowledge of drive trains, engine electronics, brakes, preventative maintenance and more.
"Our Top Wrench competition showcases the skills our dedicated technicians use every day to ensure that we have one of the best-maintained and safest fleets in the industry," said John Smith, vice president of Safety, Fleet Maintenance and Facility Services. "I'm proud to have our top technicians represent FedEx Freight at the national level."
FedEx Freight Top Wrench winners include:
• First place: Mark McLean, Jr. – Newburgh, N.Y.
• Second place: Eric Vos – Boise, Idaho
• Third place: Derek Southerland – Knoxville, Tenn.
• Fourth place: Jeff Ostby – Spokane, Wash.
• Fifth place: Mitchell Buelow – Fremont, Ind.
• Sixth place: Chuck Kerr – San Antonio, Texas
• Seventh place: Matthew Nolan – Hartford, Conn.
• Eighth place: Jonathan Berg – Minneapolis, Minn.
These eight technicians will face competitors from across the industry at TMC SuperTech 2013 in September. The Technology & Maintenance Council of the American Trucking Associations (ATA) hosts SuperTech, which is considered the premier skills competition for professional commercial vehicle technicians.