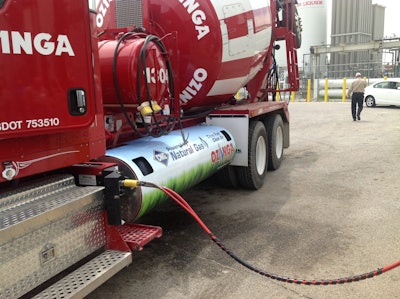 There is a conventional wisdom that natural gas is an extremely volatile and flammable fuel, one that needs to be handled with utmost care and skill.
While the second part of that sentence is true, it's just as true for natural gas as it is for diesel fuel or even gasoline.
In fact, in many instances natural gas is actually safer than both — and its facts like that that highlighted the incredibly informative Natural Gas Vehicle Institute (NGVi) Technician and Fleet Operations Safety Training held Tuesday at the Gas Technology Institute in Des Plaines, Ill.
Led by NGVi's Dave Crowley, the full-day course was filled with informative sessions, hands-on learning opportunities and live natural gas vehicle fueling demonstration to teach participants about the benefits, drawbacks and safety protocols necessary when working with natural gas.
NGVi's Technician and Fleet Operations Safety Training courses have been held at locations throughout the United States since 2010. The course is designed to inform interested parties about the component properties of natural gas, how it is used to power vehicles and the operational and safety recommended practices required for any fleet, service provider or owner-operator who is working with natural gas vehicles.
Tuesday's training class included fleet managers, truck dealers and service providers, and each class participant brought a different level of understanding into the course.
Crowley kicked off the discussion with an impromptu test on natural gas and natural gas vehicles to gauge the knowledge level of the group. After a short discussion addressing the correct answers, he began the training session.
The training was broken down into several steps, each of which addressed a specific area of natural gas as it relates to its use as a vehicle fuel. The training steps were as follows: properties of natural gas, natural gas vehicle technology, compressed natural gas (CNG) fuel station equipment and safety practices, emergency action plans and procedures, fueling station safety equipment and evaluation, safe de-fueling procedures and how to fuel a natural gas vehicle.
For a dealer or service provider considering adding natural gas service to its product offering, the training session was filled with valuable information.
Starting with the section on compressed natural gas properties — always lighter than air, approximately 90 percent methane, has a flammability range of 5 to 15 percent in air and an auto-ignition temperature of nearly 1,080˚F — the day's discussion highlighted in great detail how natural gas is entering the North American marketplace, and how it is being implemented in all vehicles on our roadways. And because Tuesday's participants came almost exclusively from the commercial vehicle market, the discussion focused heavily on heavy-duty maintenance and repair.
A 30-minute outdoor fueling demonstration also allowed the participants the opportunity to fuel a natural gas vehicle and experience the differences between gaseous fueling and standard liquid fueling seen with diesel and gasoline.
For more information on the course, NGVi or to check out the other courses NGVi offers, go to http://ngvi.com/public_registration.html.