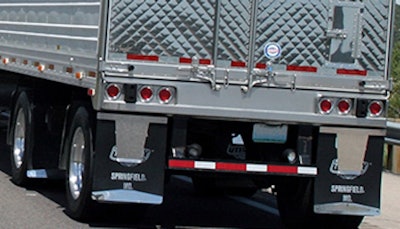 [This article was originally published in 2020 by Trucks, Parts, Service. It has been updated to include more timely information.]
Service providers should be in the habit (if they're not already) of inspecting the reflective tape on their customers' vehicles. The tape is simple to check and relatively easy to replace yet can save customers from possible fines and prevent being pulled out of service during roadside inspections.
TPS has covered how aftermarket service providers can help their customers avoid having their drivers cited or vehicles pulled out of service because of lighting infractions. While checking lights, connections, wiring, etc., it also would be a good time for a service provider to inspect the condition of the reflective tape on the tractor and trailer.
Granted, replacing reflective tape is a relatively inexpensive fix for a repair shop but you likely will make up for it in the form of good will between you and your customer. If you're already inspecting the lights on a truck and trailer, what's the harm in taking a look at the tape?
Damaged or missing tape can be a common violation, according to Kerri Wirachowsky, Commercial Vehicle Safety Alliance (CVSA) roadside inspection program director. She should know, as she served as a roadside inspector for more than 25 years.
Reflective tape is a requirement of Federal Motor Vehicle Safety Standards 108, which is referred to in the regulations in 393.11. It is required on the tractor and the trailer. It is an inspection item during a Level I, Level II and Level V inspection.
"As time goes by, more and more trailers get weathered, trailers [come into contact with] loading docks and the tape is torn or falls off. This is something that should be examined at least annually. It should be replaced, if necessary, during any PM or annual inspection," Wirachowsky says.
Reflective tape is especially susceptible to damage on rear impact guards and the rear of a trailer. The requirement states there must be a strip of tape across the entire rear impact guard and across the back of a trailer at the bottom of the doors. It also is required at least half of the length of the trailer has reflective tape from the front to the back of the trailer.
"The tape does have to be applied from the front to the back of the trailer, but many manufacturers apply sections of tape along the side of the trailer in segments which total length covers just over half of the length of the trailer in total, with gaps in between the strips of tape," she says.
"The reflective tape is costly so this is a way for the industry to comply without applying a 53-ft. strip of tape along the entire side of the trailer," Wirachowsky says. Rules also require white chevrons on the back of a tractor and van trailers. There also is a requirement on rear fenders, mud flaps or the mud flap support brackets, she adds.
"It's like anything else on a vehicle; when you buy something new and don't maintain it, it eventually wears away and reflective tape is a prime example," she says.
Checking the reflective tape might not seem like a big deal and if replacing damaged or missing tape is a hard sell to your customers, just remind them of the possible cost and aggravation that can incur if their equipment is flagged during an inspection.