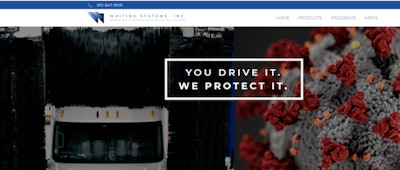 Whiting Systems has updated its corporate website. Early returns on the new site have been good, says Director of Marketing Jason Rhoads.
"Since the launch of the company website this month we have seen an increase in traffic, load times are faster, and our customers love the content we are providing at the touch of a tab," Rhoads says.
Whiting Systems President Russ Whiting says one of the biggest goals the company had in updating its site was to create a more customer centric website with ease and convenience to our partners. As Whiting Systems continues to be the leader in mitigating costly downtime in the transportation industry, the company knew it must invest in client portals that allow for ease of quotes. The company says its website now attracting new visitors at an all-time high and providing quotes for all chemicals, wash systems, and disinfectants.
Whiting says clients and distributors now have the capability to envision a complete transportation hygiene program. They also experience faster downloads of information to complete their buying decisions, the company says.