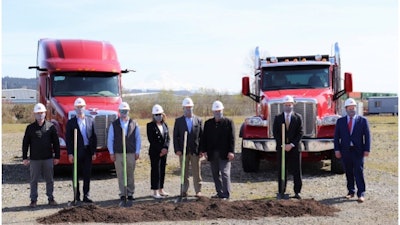 Dobbs Truck Group officially broke ground on their new Dobbs Peterbilt dealership, as well as Dobbs Truck Group corporate office. This will allow Dobbs Truck Group to add its 18th Dobbs Peterbilt dealership location, the ninth in the state of Washington, the company says.
"First, I would like to thank our loyal customers. Without them, none of this is possible. I also appreciate the support of our guests from the City of Sumner, including the honorable Mayor of Sumner, Bill Pugh, our business partners at Cushman and Wakefield, JH Kelly, Sitts & Hill, and the executive team from Paccar. Without all of your support, we wouldn't be here today," says Dobbs Truck Group CEO Mike Clark.
The facility, situated on 11 acres in Sumner, Wash., represents a $16 million dollar investment in our dealership network and will bring 100 jobs to Sumner. The move also provides access to more than 3,800 trucking companies with up to 34,000 vehicles in a 50-mile radius, according to RigDig Business Intelligence.
The company says the facility will incorporate leading edge technologies including provisions for the sale and service of battery electric vehicles.
Other features of the facility include:
Total square footage of the facility – 69,000
Square footage of the Parts warehouse – 24,000
Square footage of the shop – 23,000
Approximate completion date – Jan. 1, 2022
"We are very pleased to be joining this community and look forward to offering Peterbilt truck sales, financing, truck rental and leasing, aftermarket parts and truck maintenance services at our new dealership," says Olen Hunter, Dobbs Truck Group executive vice president.