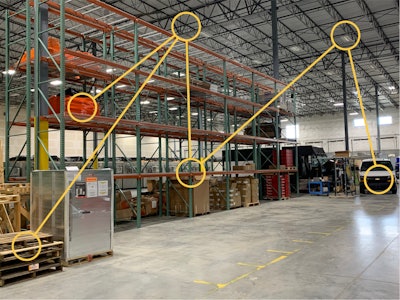 Velociti has opened the Velociti Innovation Lab to help enterprise businesses design the best technology plan that drives business agility and increased revenue.
Created in response to the rapid rate of profound changes businesses are experiencing, Velociti says the lab gives enterprise companies the critical space they need to optimize their technology through a strategic comprehensive planning and design process.
"We have created the ultimate technology playground for businesses to come and explore what technology best suits their unique needs," says Deryk Powell, president, Velociti. "Our multi-disciplinary team of experts ranging from solutions engineers and project managers to configuration specialists and professional installation technicians help businesses make the right technology decisions that will maximize ROI on their technology investment.
He adds, "When businesses come to the lab's vast warehouse environment they can truly envision the process as we select and test industry-specific technology solutions long before anything is deployed which saves companies both time and money."
Located alongside Velociti's Kansas City headquarters, the company says the lab encompasses over 85,000 sq-ft. focusing on cutting edge technology solutions to solve complex business challenges. Velociti brings a hardware-agnostic approach and guaranteed service level agreements (SLA) to help enterprise customers harness the full power of technology in ways they've never imagined. The Innovation Lab's team of experts identify the right pieces of technology, and then test them within the lab space to ensure functionality before deploying within the enterprise, the company says.
Velociti adds customers leave the Innovation Lab with an actionable technology plan uniquely designed to maximize uptime, improve employee and customer acceptance of the technology and increase the overall return on the technology investment.
"The pandemic forced businesses of all sizes to re-examine their operations to drive greater efficiencies and create better customer experiences," adds Powell. "Whether it's properly retrofitting technology in historic hospitality facilities, creating equipment visibility at construction sites or integrating the latest supply chain technologies between vehicles and warehouses Velociti understands unique business challenges. We not only reimagine and design innovative technology plans but also expertly deploy and maintain them to ensure businesses across industries are optimizing technology to suit their needs."