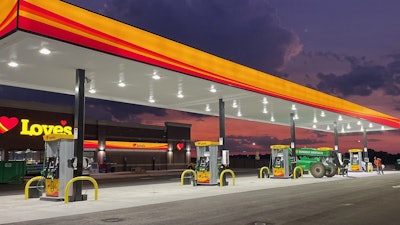 Love's Travel Stops is now serving customers in Albany, Ga., thanks to a new travel stop that opened Thursday.
The store, located off I-19 at1737 Clark Ave., adds 60 jobs and 100 truck parking spaces to Dougherty County. The facility also has seven service bays and a CAT scale for trucker use.
"We're excited to add our 16th location to Georgia, which sits in an important corridor in the southeast part of the country," says Greg Love, co-CEO of Love's. "Customers want a good value at competitive prices, and our team members are great people who care and are ready to provide that in a safe and clean atmosphere."
This is the second Love's store to open in a week. The company added another location in Mississippi on June 10.