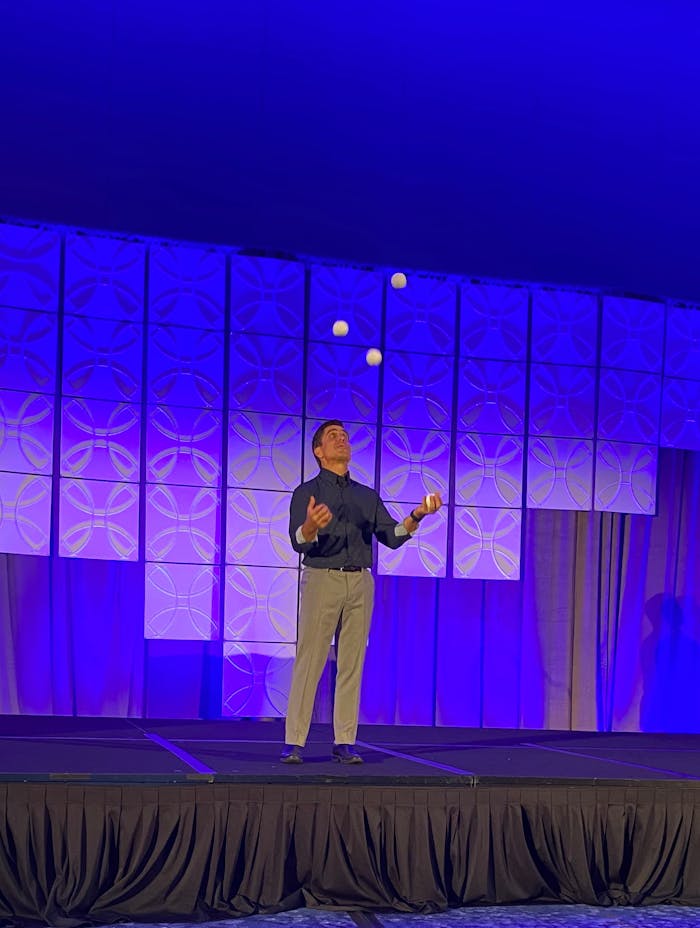 Dan Thurmon understands why people crave balance. He gets why it's the focus of so many self-improvement books and leadership coaching seminars. But to Thurmon, balance isn't an equilibrium that can be achieved; balance is a constant.
Our personal and professional lives are constantly in balance with one another. Finding the right formula to manage both equally, or to the best of our abilities, isn't about finding how to compartmentalize each and distance them from each other. Presenting the keynote address at Tuesday's HDA Truck Pride Annual Meeting in Grapevine, Texas, Thurmon says balance is about finding how the events of our lives fit together. It's about juggling our families and our friendships, our responsibilities and our requirements, in a way that allows us to best the best versions of ourselves.
Extending the juggling metaphor, Thurmon says balance is about understanding "the space between the throws and the catches" to see how our lives are interconnected and using those connections to enable greatness.
"The way you handle any moment in front of you connects to everything else you do in your life," he says.
Thurmon visualized that creatively Tuesday, first by cartwheeling on stage and then through several physical feats, such as balancing upside down on the podium, juggling balls and bowling pins, juggling knives while on a 6 ft. tall unicycle.
Admittedly, he says the challenges of running a small business are different than juggling while unicycling but adds succeeding at both requires an ability and a willingness to be "off balance, on purpose." On the unicycle, that means intentionally learning forward or backward to initiate movement. In business, that might mean knowing when to delegate an important project or leveraging skills and resources learned in one area to be successful in another. Thurmon says "improvement is a choice before it's a process or a result," which means none of truly know what we are capable of until we challenge ourselves.
[RELATED: HDA Truck Pride brings the gang back together for busy annual meeting]
"How much can you handle? How comfortable are you in the midst of change?" he asks.
He also says all too often people downplay their skills and undersell themselves when setting goals because they lack confidence and/or understanding of their potential. Thurmon didn't know he could juggle until he tried it. Same for the unicycle. And it was in trying both individually that he eventually discovered he could do both together. That's the type of balance he wants others to seek. Through constant self-improvement and self-reflection, he says there is very little in life we cannot accomplish.
"Bring all of what you do to whatever you do," he says.