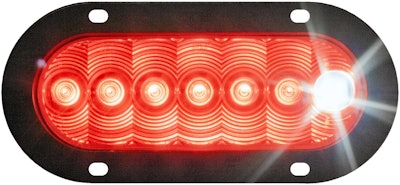 JIT Truck Parts announced the addition of Peterson Manufacturing's commercial vehicle and trailer LED lighting and wiring harness systems into a growing category of lighting products.
From OEMs to fleets to owner-operators, Peterson offers the industry exterior, interior and work light LED lighting technology, providing a brighter, safer work environment. The light-emitting diode (LED) lights are vibration resistant with a low current-draw, boasting a longer life then the traditional halogen and incandescent lights. These high-quality LED lights offer drivers better visibility with less glare, which improves object recognition at night for drivers and reduces eye strain. In addition, LED lights are easy to install on large commercial vehicles and their long life reduces the cost of replacing lights over time, according to an announcement.
Peterson offers a wide range of OE and aftermarket safety lighting products including a broad line of exterior work lights as well as interior and cargo lights. Peterson is a one-stop-shop for stop/turn/taillights, turn signals, clearance/marker lights and back-up lights. Plus, synchronized strobes and special safety lighting is available for specialized markets like refuse and tanker.
Peterson's modular wiring harnesses, PetersonPATRIOT and Defender, provide the industry's leading and strongest defense against moisture intrusion and corrosion, reducing safety violations, downtime and maintenance costs. They feature integrated moisture barriers that protect wires from capillary damage and improved electrical connections and sealed ring terminals mean maximum protection, the company says.
"We are delighted to introduce Peterson into our product inventory and provide our customers with the latest in technology and performance. We hope that buyers will see the benefits of installing LED lights in their vehicles for safety and quality assurance," says JIT Truck Parts President Michael Walker.
These lights are not available online at this time, JIT says. Please contact your JITtruckparts.com account manager to learn more about Peterson vehicle safety lighting and harness solutions.