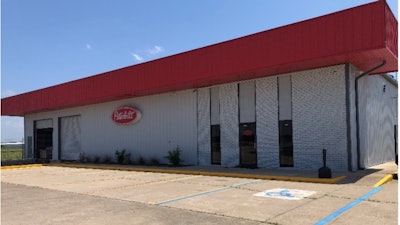 Dobbs Peterbilt will host a formal grand opening celebration at its new facility in Monroe, La., next week.
Set for 11 a.m. CT on June 9, Dobbs Peterbilt will be opening its new store at 7410 Frontage Rd., in Monroe. The three-hour event will include live music, free lunch and dessert, raffles and business specials.
Dobbs Peterbilt – Monroe joins the portfolio of 16 other Dobbs Peterbilt locations, throughout Washington, California, Arkansas, Mississippi, Louisiana, and Tennessee.
Dobbs Peterbilt, formerly known as Western Peterbilt or Peterbilt Truck Centers, merged and rebranded in August 2020. With the rebrand came a reenergized focus on the development of the mission, vision and values of the company, specifically focusing on customer service, Dobbs Peterbilt says.
When the rebrand took place, the #DobbsValue was formed. The #DobbsValue serves as the foundation for how employees strive to provide an unmatched level of customer service, while also influencing the work atmosphere in a positive way. The company says the #DobbsValue can be broken down by: D – Driving Results, O – Ownership, B – Building Relationships, B – Best Value, S – Superior Service.
Dobbs Peterbilt states it firmly believes that when employees focus on bringing the #DobbsValue to the customer experience that results will follow.