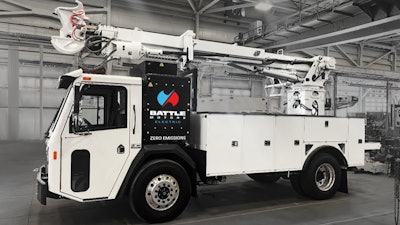 Custom Truck One Source has added Battle Motors to its truck sales inventory.
As part of the partnership, Custom Truck will offer Battle Motor's full cabover line including electric trucks, as well as parts and service to the Kansas City, Mo., market and other cities. The partnership will enable Battle Motors to leverage Custom Truck's distribution channels and expand their market presence while providing first-class customer service and support on a national level, the companies say.
"We are excited to expand Custom Truck's chassis offerings through the addition of Battle Motors," says Fred Ross, CEO, Custom Truck. "This partnership will allow us to offer electric powered options to our customers as part of our 'one source' offering."
Custom Truck offers a comprehensive range of services to the heavy equipment market. The company sells, rents, customizes, remanufactures, and services a diverse range of machinery and assets. The addition of Battle Motors products enables Custom Truck to offer CARB emission compliance solutions for sales and rental customers, better serving the refuse and municipal markets, the company says.
"Battle Motors is pleased to aggressively enter the Utility Truck space with the industry leader Custom Truck One Source. We are focused on driving technology and innovation that gives our customers exceptional value, confidence, and performance. Partnering with a leading organization like Custom Truck allows us to step-up that mission," says Michael Patterson, chairman and CEO, Battle Motors.