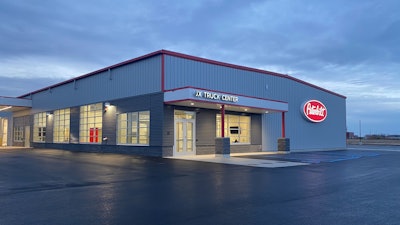 JX Enterprises announced JX Truck Center-Clare, its newest dealership, will open for business Oct. 31, to serve customers' parts, service, and truck rental and leasing needs.
JX Truck Center-Clare, located at 9989 Rebak Way (Clare, MI, 48617) near the heavily trafficked merge of highways 10 and 127, is a purpose-built, 29,000 sq.-ft., facility with modern amenities and styling. It is located on a six-acre lot to provide ample parking and easy access for trucks and trailers, the company says.
"We're very excited to welcome customers to the new JX Truck Center-Clare, the largest, most modern truck dealership in the region," says JX Operations Manager Micah Herin. "It is designed and built to enhance the complete customer experience. With 12 service bays, a massive parts and merchandise showroom, and a two-lane drive through for express service assessments, it will provide customers with quick and efficient solutions for their aftermarket and truck rental and leasing needs."
Other features of JX Truck Center-Clare include an in-floor, drive-on hydraulic lift that allows technicians easy access to the underside of the vehicle; a well-appointed drivers' lounge; trailer parking; abundant parts inventory storage; and 100-ft.-long service bays.
JX Truck Center-Clare replaces JX Truck Center-Mt. Pleasant, which is approximately 15 miles south of the new location, the company adds.